Today (May 21, 2013), SPWR looked pretty strong in pre-market trading and as soon as the markets opened, the stock galloped right out of the gates and in no time was up more than $1 in early trading, going as high as $23.72, before losing steam...
However, I was not fooled by SPWR's fake show of strength and I quickly dumped my remaining 300 June $15 contracts at an average price of $8.35. less brokerage commissions...And, as stated in my post from this morning, yesterday I sold 400 contracts of these same June $15 CALLS at an average price of $7.738
Therefore, over the course of yesterday and today, I exited out of my 700 contracts of SPWR June $15 CALLS and these sales netted total cash of a little over $500K...
Here are the screen shots of the sales, both from yesterday and today: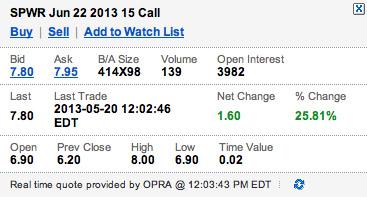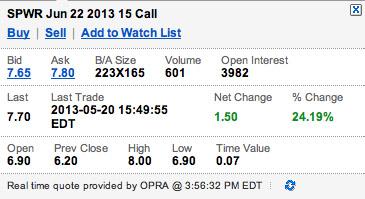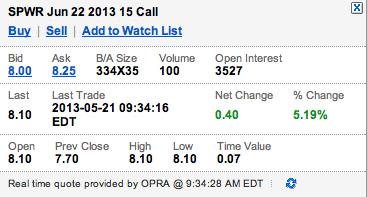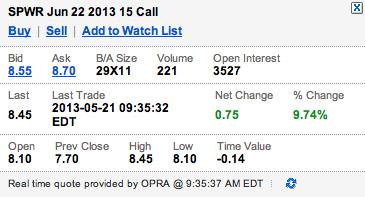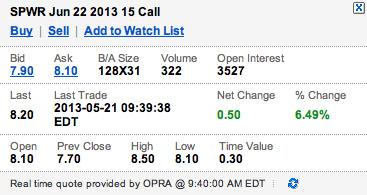 Again, as per my plan, which was telegraphed here first, I decided to use my new cash hoard to buy WFR CALLS...Now that I have generated substantial cash over the course of the last 4+ months, I will focus more on cash preservation...therefore, on the WFR CALLS, I decided to play somewhat safe by buying January 2014 option contracts with strike prices of $6.00 and $7.00.
I bought 1700 contracts of WFR's January 2014 $6.00 strike price at an average cost per option of $1.834 + commissions and 1000 contracts of its January 2014 $7.00 strike price at an average cost of $1.39 + commissions.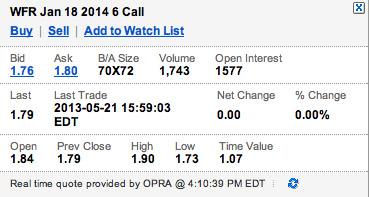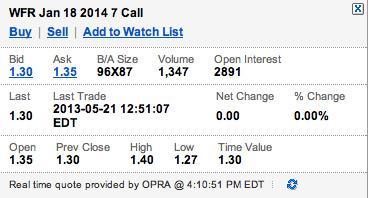 BTW, almost all of the trades shown in the screen shots above (both SPWR and WFR options), can be attributed to my buying and selling...LOL!
Since it is now way past my bedtime and I still need to be up bright and early before the markets open, I will call it a night and hit the sack...later, I will update the Excel spreadsheet with the most recent trades in the portfolio, and post it here.
kp
DISCLAIMER: All postings made here are strictly for my personal record keeping and in no way, shape or form, am I even remotely suggesting others to follow my Buy and Sell moves. Trading options is definitely not for the faint of heart as one's portfolio can move up, or down, anywhere between 10%-30% during a single trading day. Feel free to follow my progress here, but PLEASE do not follow my moves. However, if, in spite of all my exhortations, should you decide to do so, be advised that you, and ONLY YOU will be responsible for any losses that you may suffer...In other words, the onus is strictly on you. On the other hand, if the move(s) result in a profit for you, I am open to discussing a split. ;-)