Had a very busy, but fun, Memorial Day weekend...
Just got around to updating my portfolio's Excel spreadsheet...This latest spreadsheet reflects all the trades made during the past week including my exit out of the 700 contracts of my SunPower June $15 CALL options and the purchase of 1700 contracts of WFR's January 2014, $6.00 Strike Price CALL options and the additional purchase of 1000 contracts of WFR's January 2014, $7.00 Strike Price, CALL options.
As of close of Markets on Friday, May 24th, 2013, my Options2Wealth's Net Asset Value (NYSE:NAV) closed at $926,104.31, up 48% for the week. Year-to-Date, the NAV is up 9161.00% since the Portfolio's inception on December 31st, 2012...
Here is the screen shot of the Summary page of the latest Excel spreadsheet: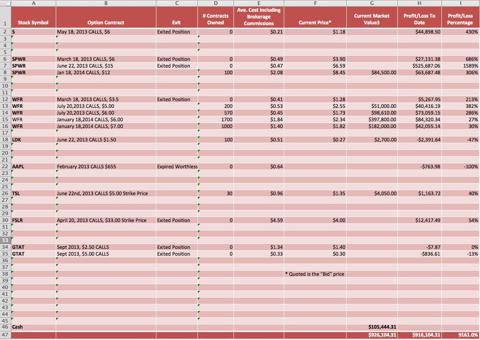 kp
DISCLAIMER: All postings made here are strictly for my personal record keeping and in no way, shape or form, am I even remotely suggesting others to follow my Buy and Sell moves. Trading options is definitely not for the faint of heart as one's portfolio can move up, or down, anywhere between 10%-30% during a single trading day. Feel free to follow my progress here, but PLEASE do not follow my moves. However, if, in spite of all my exhortations, should you decide to do so, be advised that you, and ONLY YOU will be responsible for any losses that you may suffer...In other words, the onus is strictly on you. On the other hand, if the move(s) result in a profit for you, I am open to discussing a split. ;-)