Yesterday, SUNE started out strong and then the bottom fell out and the stock dived...However, after being down as much as 23¢, it reversed and closed up 16¢...Pretty impressive reversal...
The overall Market(s) also reversed quite impressively, however, it was on low volume...I'm closely following the general market's health and am not too sanguine as to its near term direction...hence the decision to at least sell out my SUNE July options which were quite fat with profits...
Therefore, as planned and telegraphed here first yesterday, 15 minutes into the markets open, I sold all of the SUNE July options in the Options2Wealth portfolio...As I write this post, I notice that the stock is again up today...However, I am very happy with my decision to sell my July CALLS and I still have a very sizeable position in the company's longer term CALL options...
I sold all 200 contracts of the portfolio's July $5 CALLS at an average price of $3.01 and I also sold all 570 contracts of the July $6 CALLS at an average price of $2.07...
Here are the screen shots of the trades...Those following my blog will notice that both these screenshots show the time of "Last Trade" within 4 and 13 minutes of my post here yesterday...and, you will also notice that the number of contracts sold were more than the number of contracts held in the Options2Wealth portfolio account...As I have stated here on numerous occasions in the past, the Options2Wealth portfolio basically mimics my personal portfolio...and the positions held in my personal portfolio are much larger than the public portfolio here...both the screenshots below are trades executed by me...So should anyone doubt the veracity of my postings here, the fact that these somewhat large trades were executed within minutes of my post here yesterday, should serve as conclusive evidence that my posted trades, and the results of the Options2Wealth portfolio to-date, are real, and not the figment of my imagination...LOL!
kp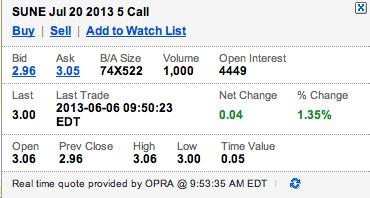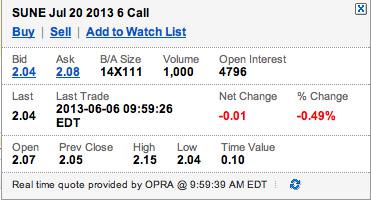 (click to enlarge)
Click to enlarge
DISCLAIMER: All postings made here are strictly for my personal record keeping and in no way, shape or form, am I even remotely suggesting others to follow my Buy and Sell moves. Trading options is definitely not for the faint of heart as one's portfolio can move up, or down, anywhere between 10%-30% during a single trading day. Feel free to follow my progress here, but PLEASE do not follow my moves. However, if, in spite of all my exhortations, should you decide to do so, be advised that you, and ONLY YOU will be responsible for any losses that you may suffer...In other words, the onus is strictly on you. On the other hand, if the move(s) result in a profit for you, I am open to discussing a split. ;-)