Just about a year ago, Apple was the stock market's darling, making a high of $700+...it could do no wrong...
And then suddenly the bottom fell out and the company was written off as a relic of late Steve Jobs' days at its helm...From gloat to ignominy and hopefully gloat again as relief is finally in sight for Apple's long suffering shareholders who have watched in disbelief as their stock has nose dived to hit a low of $385...
Earlier this week, Apple announced earnings and the most important metric, unit sales of its flagship iPhones, were a lot higher than most analysts' forecasts...The stock gapped up and is currently trading around $440.
Looking at Apple's weekly candlestick chart, it is pretty clear that the stock has made higher lows and is getting ready to attack its first target...its 50 day simple moving average line which currently sits at $503.17...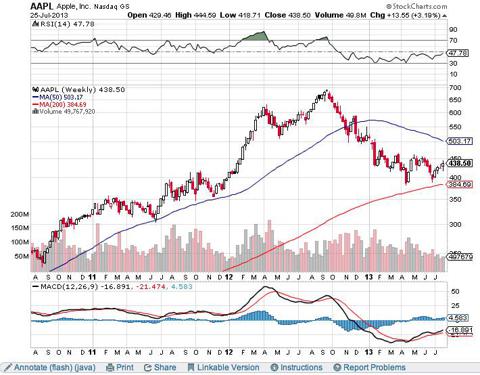 And its PnF chart is even more interesting...
When AAPL gapped up and printed $444, it broke through its bearish resistance line sitting at $440....Readers of my blog recognize the importance of this break, having identified, and handsomely profited, from a similar pattern formation in SunPower's PnF chart not too long ago...
I believe that this break of the bearish resistance line is very significant...
Additionally, and I believe, equally as important, in the overall stock market, the S&P 500 and the Dow are making new highs...and it is only the NASDAQ that is playing the role of the party spoiler...Heck, even the Russell 2000 Index is making new, all time highs...
In my humble opinion, this is about to change...Within the next 6-9 months, the Nasdaq Index will make a new all time high...which btw, is 5000+ points...Currently the NASDAQ sits around 3600 and needs to make a 1400+ point move to get there...
And there is more connecting of the dots...
Apple is the largest component of the NASDAQ...in order for the NASDAQ to reach its all time high, it needs Apple...No way in hog heaven can it get to the Promised Land without Apple...
My humble prediction is that Apple has made its lows and has just started the inevitable march...upward...in pursuit of its recent $700+ peak...in other words, a $260+ move in Apple's stock price could be in the offing and it may happen sooner than many believe...after all, only with Apple's help can NASDAQ achieve Nirvana...and achieve it will...you can count on it...
This impending move in Apple should be explosive, and the ride, pure doozy...I am counting on it!
:-)
kp
P.S. I am aware that I have neglected answering a few questions posed by this blog's readers and I want to assure you all that I have every intention of responding and will do so very shortly...This post, I felt, was very important for me to get it out there for you all... :-)
DISCLAIMER: All postings made here are strictly for my personal record keeping and in no way, shape or form, am I even remotely suggesting others to follow my Buy and Sell moves. Trading options is definitely not for the faint of heart as one's portfolio can move up, or down, anywhere between 10%-30% during a single trading day. Feel free to follow my progress here, but PLEASE do not follow my moves. However, if, in spite of all my exhortations, should you decide to do so, be advised that you, and ONLY YOU will be responsible for any losses that you may suffer...In other words, the onus is strictly on you. On the other hand, if the move(s) result in a profit for you, I am open to discussing a split. ;-)
Disclosure: I am long AAPL, CY, SCTY, SPWR, STP, SUNE, TSLA.