Many of you must be wondering what's going on with SunPower...the short answer is: Nothing.
What we are seeing is a very typical base building process which typically lasts a minimum of 8 weeks...
Now let me share a few interesting, and bullish, observation(s)...
Regular readers of my blog will recall that way back in February, I wrote a post on Sprint titled: " The Most Beautiful Cup And Handle Pattern Ever. And should you care to reread it, you will see a weekly chart of Sprint that showed a beautiful cup and handle pattern that took 3 years to form...On that particular chart, the handle alone was 18 weeks long and it took an additional 8 weeks before Sprint pulled out of that C&H pattern, and in the process made a boatload of money for my Options2Wealth portfolio...
Guess what?
A very similar Cup and Handle pattern, almost as beautiful as Sprint's, has formed in SunPower's weekly candlestick chart...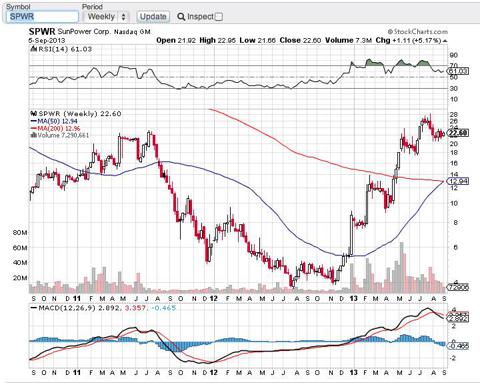 What is especially interesting about this chart, and which was not evident in Sprint's chart, is that SPWR's 50 week SMA (simple moving average) line is only 2¢ away from crossing the stock's 200 week SMA line..Additionally, depending from where one measures it, the handle too is, at a minimum, 6+ weeks long.
Next week on Monday, immediately upon the ringing of the opening bell, SPWR's 50 week sma will cross its 200 week sma from below...and the handle will be at least 7 weeks long...
And now let's talk about the solar sector...
As most of you know, there are 2 solar ETFs, The Guggenheim Solar ETF (NYSEARCA:TAN) and the Market Vectors Solar Energy ETF (NYSEARCA:KWT) that serve as proxy indices to the entire sector...
Today, both TAN and KWT flashed Buy signals on their respective PnF charts...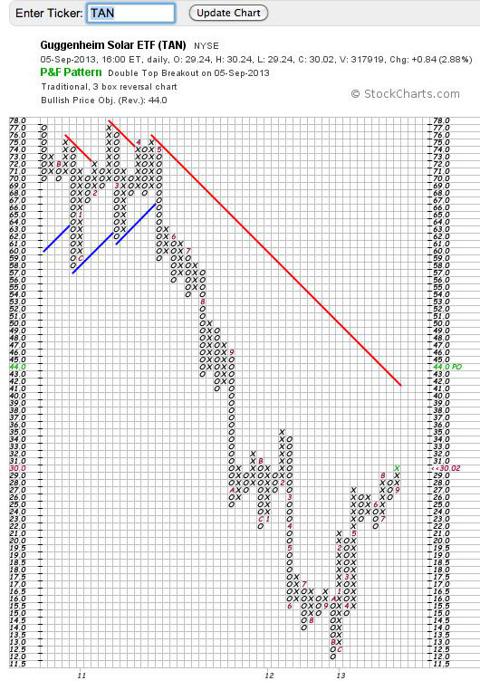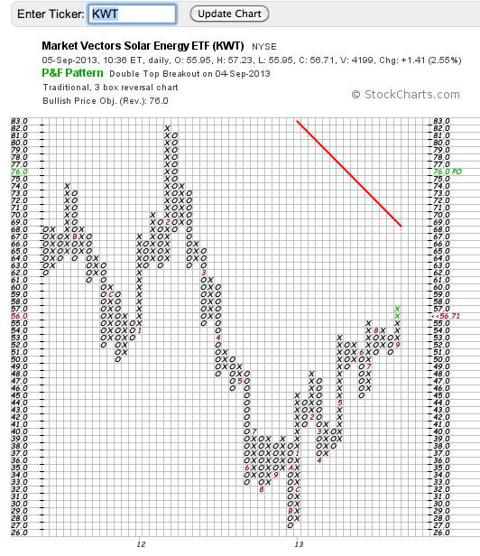 Notice how far each index is from its Bearish Resistant Line...What's the significance? This tells us how much further our favorite solar stocks still have to go...WoW!
Like I said in a previous post, I expect SPWR to print at least $26 in the next 2-3 weeks...Then come back down to $23 and in the process of this gyration, form a beautiful flag pattern on its PnF chart...It should then breakout from there and reach my next target of $33 around next earnings' announcement at the end of October / beginning of November...
:-)
kp