There has been a lot of chatter on this board about the prospects of China based solar company, ReneSola (NYSE: SOL). A number of my blog's readers have asked for my opinion...So, in a nutshell, here are my thoughts...
When I started my blog a little over 10 months ago, one of my first investments for my Options2Wealth portfolio was in a company whose shares were then trading at barely $5.00...That company, was of course, SunPower.
What attracted me to Sunpower was the fact that the company's entire marketcap then was around $500 million while its annual sales were more than $1 billion. Then 2 days after I allocated 40% of my portfolio's initial capital into SunPower's options, Warren Buffett's company MidAmerican Energy agreed to purchase 2 solar power plants from SunPower for $2.5 billion. In other words, just that order alone was more than 4x SunPower's then entire marketcap. The rest, as we all know, is history...LOL!
Fundamentally, what attracted me to ReneSol is the fact that the company's marketcap, as of Friday, October 25, 2013's closing share price of $4.50, is barely $389 million, while its revenue per share, according to Yahoo, is $13.73. In other words, 3x greater than its current share price. Since most American solar companies today trade at greater than 1x sales and most China based solar companies, trade close to 1x sales, SOL's meager marketcap is an anomaly that Mr. Market should correct relatively soon. At an absolute minimum, I expect SOL share price to at least double, just to keep up with the Joneses...
Technically, the stock, recently blew through its Bearish Resistance Line (BRL) and in the process, also broke a double top on its PnF chart...Those following my blog know how much importance I place on this technical signal which basically telegraphed to us that the stock has reversed its previous bearish down trend and has started a brand new up trend. Here is its current PnF chart which technically is a piece of beauty: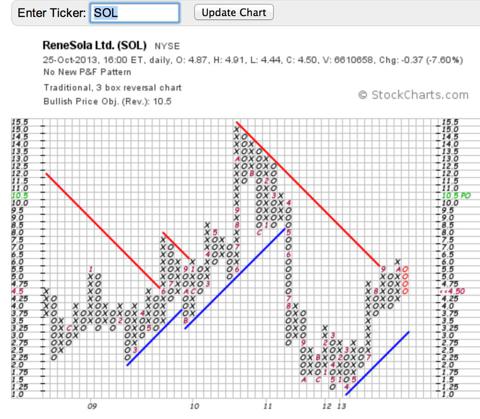 To those who are concerned by the stock's recent pullback after piercing its BRL...I would like to point out that historically, this pullback is par for the course for this stock and very much part of its modus operandi...If you look closely at the stock's 3 year weekly chart, you will notice that every time the stock made a substantial, weekly percentage move up, it immediately pulled back, rather violently, sometimes as much as 50%, from its previous weekly high to its new weekly pullback low...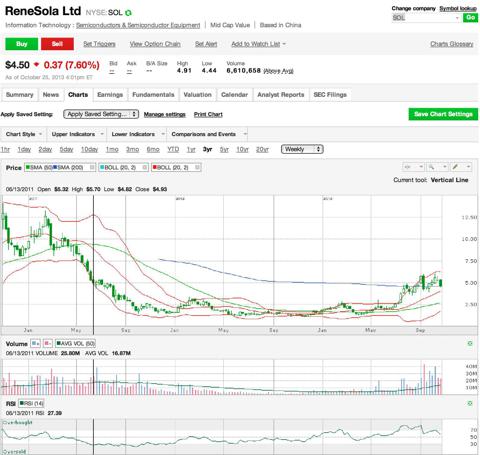 Cases in point:
1) Week of 2/18/2013: High of $2.85 and 6 weeks later, the week of 4/01/2013, low of $1.25, Down 56.14%
2) Week of 9/02/2013: High of $5.90 and 3 weeks later, the week of 9/23/2013, low of $3.95, Down 33.00%
3) Week of 7/22/2013: High of $4.75 and 3 weeks later, the week of 8/12/2013, low of $3.52, Down 25.89%
So far, on its recent uptrend move, the stock hit an intraday high of $6.00 during the week of 10/07/2013 and 2 weeks later, this past Friday, October 25th, 2013, SOL printed an intraday low of $4.44...in other words, a pullback of 26%. This pullback matches the pullback of #3 above but it is nowhere close to the 56% pullback of #1 above.
So you get the picture...
This current pullback is very much within the stock's DNA and I don't yet see anything that would make me take cover...
:-)
Additionally, on its 3 year weekly chart, you will also notice a beautiful cup and handle being formed from June of 2011 up to the present...And as I have mentioned many times here in the past, typically the handle needs to be 8 weeks long and as of this past Friday, this handle is only 7 weeks long...so we have at least another week of consolidation before the stock breaks out in earnest...
And breakout it will...it's only a matter of time...all we need is patience...
:-)
kp
DISCLAIMER: All postings made here are strictly for my personal record keeping and in no way, shape or form, am I even remotely suggesting others to follow my Buy and Sell moves. Trading options is definitely not for the faint of heart as one's portfolio can move up, or down, anywhere between 10%-30% during a single trading day. Feel free to follow my progress here, but PLEASE do not follow my moves. However, if, in spite of all my exhortations, should you decide to do so, be advised that you, and ONLY YOU will be responsible for any losses that you may suffer...In other words, the onus is strictly on you. On the other hand, if the move(s) result in a profit for you, I am open to discussing a split. ;-)
Disclosure: I am long AAPL, GALE, HALO, RMTI, SOL, SPWR, VTUS, ZIOP.