In response to a number of questions posed by kccase3, I believe a new post that consolidates my answers may better serve all those who follow my blog...
First and foremost, I want to take the unusual step of posting my usual disclaimer at the beginning of my post to put special emphasis on it...So do please read it in its entirety:
DISCLAIMER: All postings made here are strictly for my personal record keeping and in no way, shape or form, am I even remotely suggesting others to follow my Buy and Sell moves. Trading options is definitely not for the faint of heart as one's portfolio can move up, or down, anywhere between 10%-30% during a single trading day. Feel free to follow my progress here, but PLEASE do not follow my moves. However, if, in spite of all my exhortations, should you decide to do so, be advised that you, and ONLY YOU will be responsible for any losses that you may suffer...In other words, the onus is strictly on you. On the other hand, if the move(s) result in a profit for you, I am open to discussing a split. ;-)
Having dispensed with this important disclaimer, let me start by saying that I am an opportunistic options trader and am 100% sector agnostic. Wherever I see an opportunity, I jump on it.
Eight years ago, when my wife wanted us to move to San Diego from Toronto, Canada, the main reason I agreed to her suggestion was that I would be closer to the biotech epicenter. Unfortunately, the industry 8 years ago was more about future promise than then current reality and a number of companies in which I was invested in were flameouts and I got singed so many times that I decided to seek my fortune in other sectors...
HALO: About 3 months ago, a dear friend, sent an email asking me to check out Halozyme Therapeutics...Of course, the first thing I did was to look up its PnF chart and the darn thing sang to me...So needless to say, I immediately took a significant position in HALO options and thanked my friend with a box of Godiva chocolates...LOL! Incidentally, on Friday, HALO reached my $13.50 price target and I exited out of my position, at least for now...Here is its most current PnF chart: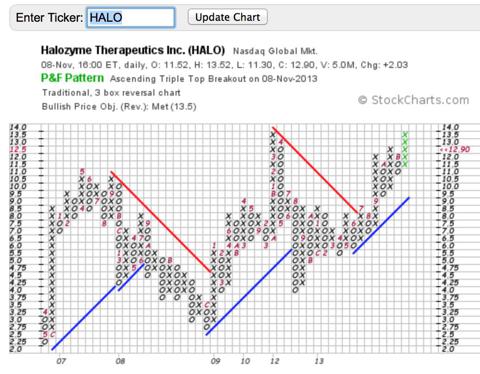 My introduction to HALO, thanks to my friend, reignited my interest in the biotech sector and today, a significant percentage of my capital is invested in biotech companies and I will share a few here...however, just because I'm now interested in biotechs does not mean that I have lost interest in the solar sector...in fact, that is still my favorite place to play the markets...Solar energy is the future and just by picking a couple of heavyweights there will ensure years of profits for the investor, while biotech's are very risky, but if you stumble upon that rare nugget and bet on it, then the ride can be a lot of fun...
GALE: One of my favorites is a tiny, little company ($200 million market cap) called Galena Biopharma...Let me share a funny anecdote on how I stumbled upon this company...About 6 weeks ago, another good family friend of ours, Gabe, an anesthesiologist at MD Anderson in Houston, came to visit us in San Diego for the weekend...Over 3 days, he shared with me names of a number of biotech companies that he thought may be of interest to me as potential investments...And one by one, I would look up each comany's PnF chart and not get excited...Gabe, needless to say, was very disappointed that I did not find any one of his suggestions worthy of an investment...
On his last day with us and just before we were getting ready to take him to the airport for his return trip to Houston, Gabe, disappointed that all of his "hot" investment ideas had failed to ignite an interest decided to throw a Hail Mary pass and mentioned Galena Biopharma (Nasdaq: GALE)...Expecting its PnF chart to be no different, I very reluctantly and perfunctorily, looked up its chart...And lo and behold, I hit pay dirt!
Without going into the fundamentals of this company, I will share GALE's weekly candlestick chart...and what is most bullish about it is that upon the start of trading on Monday, GALE's 50 week moving average line will pierce through its 200 week moving average line from below...Most folks get excited about the so-called Golden Cross signal when a stock's 50 day moving average line crosses its 200 day moving average line...If that is "Golden" than this signal should be called the Diamond Cross™...LOL!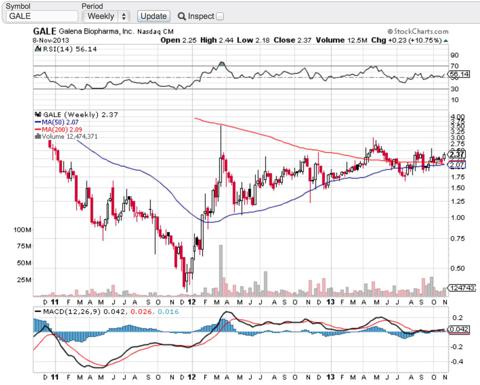 RMTI: Don't have an interesting anecdote to share here, just another company that came on my radar, liked its chart, fundamentals have potential, so I took a position...The stock had a very bullish price action this past Friday and its PnF chart is a beauty and looks ready to breakout...Initial price target price: $16.50
VTUS: One way I follow an interesting story unfold, especially in the biotech world, is to take a small position in that company's stock (options)...recognizing that having a few dollars on the line forces me to really follow a stock...and that is what I have done here...Should VTUS print $4.00, it will be one heck of a ride...and to ensure that I don't miss that move, I have taken up a small position...
ZIOP: Here too, my modus operandi is same as VTUS above...The recent weakness in its share price is due to the secondary offering that they just closed a couple of weeks ago...One reason I am bullish on ZIOP's chances is that one of the company's directors, Randal Kirk, spent $10,000,000 of his own money to buy shares in this most recent secondary...and this is after making a similar $10 million purchase back in January 2012, when he purchased his shares for a heck of a lot more ($5.20) than what he paid recently...and Kirk has one heck of a track record in biotech investing...
One way I sniff out potential investments is to use Deap Throat's "follow the money" game plan...he of course being of Watergate fame...For instance, when I was doing my due diligence on Halozyme, I noticed that one of its directors, Randal Kirk, had made a substantial investment in Halozyme...and when I started looking into Kirk, it led me to Ziop... another name that got me excited about HALO were the Baker Brothers...these 2 brothers run one of the best biotech investment funds in the country...and again, following the money led me to their investment in VTUS...
Hope the above helps...
kp
P.S. I have to commend you, KC, for being such a diligent observer of my postings and am really impressed how good your technical analysis are...keep up the good work...
Disclosure: I am long GALE, GTAT, HALO, RMTI, SOL, SPWR, VTUS, ZIOP.