Just finished watching the riveting, Frontline documentary, "To Catch a Trader," the story of the SEC's insider trading case against Steven A. Cohen and SAC Capital...I highly recommend it...
I'm proud of the fact that I have been able to achieve pretty decent returns without ever seeking any insider information on any company that I follow here...never had any reason to...reading of the companies' stock charts gives me plenty of information and it's all obtained legally!
Here is a link to that documentary: www.pbs.org/wgbh/pages/frontline/to-catc.../
Lots to cram in this post...Since I am rushing to leave the balmy San Diego weather for a business trip to the freezing confines of the wrong coast, I will try to be as brief as possible...
Next couple of months should be a lot of fun...
As of this weekend's Investor's Business Daily's "sector leaders" list, the top 2 sectors are:
#1) Biotech
#2) Solar
Hope all your bets are in these 2 sectors...
The overall markets look pretty strong...Except for the NASDAQ, the other major indices continue to make new highs every month...As many of you know, since 3600 on the NASDAQ, I have been calling for the index to finally erase the vestiges of the 2000 tech bubble and join the 3 Amigos, SPX, DOW and the RUSSELL, and make its own, new all time high...Before I can light a cigar on that July 26, 2013 prediction, the NASDAQ needs to gain another 800+ points...I am confident that I will get my wish in 2014...
In my last post, I had promised a stock tip, but with everything else on my plate, I never got around to sharing my tip in a blog post...That pick would have been ATHX...it's been on a nice run lately...on its PnF chart, when it printed $2.50 on December 27th, it was a quadruple top break and also the break of its Bearish Resistant Line (screenshot below) ...and then, on que, the stock retreated for 2 days before taking off in earnest...It is currently trading @ $4.00...last Friday, the company announced its 2nd secondary of the past two months, and it's a testament to this biotech's fundamental strength, that the stock ended the day, down only 5¢...I have a very personal reason to root for this company's success...Those interested in digging further should still find it to be an irresistible buy, despite the recent run up in its stock price...all caveat emptor and imho...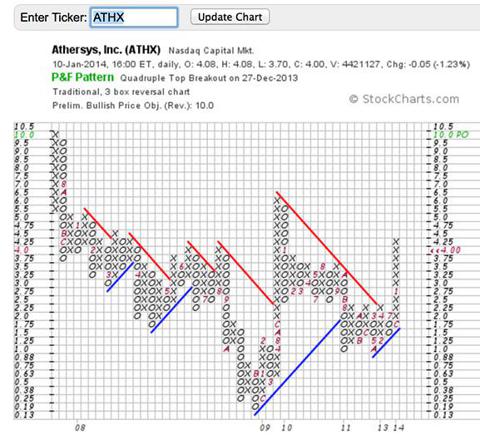 Being that this New Year also marked the first anniversary of my blog, I think my regular readers definitely deserve a good stock tip for no other reason than for having put up with me for one whole year...
Therefore...drum roll, please...I present a screenshot of a brand new stock pick...Since a picture is worth the proverbial "thousand words," regular readers of my blog should immediately grasp the significance of this stock's weekly candlestick chart...
:-)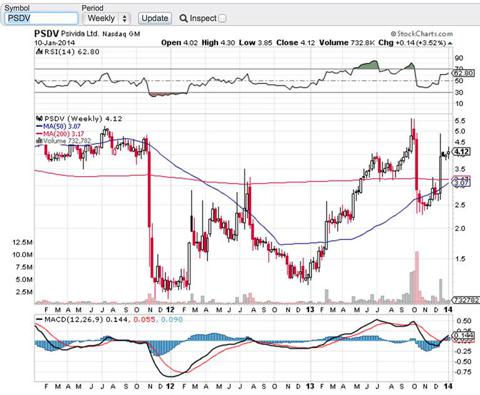 In the next few weeks, both ATHX and PSDV should make pretty impressive moves...
GTAT definitely looks ready to liftoff...
Other picks also getting ready to move are ARIA, SPWR, SUNE and VTUS...VTUS just broke a triple top on its PnF and SUNE's weekly candlestick recently scored a Diamond Cross™...and my other big favorite: HALO, a buyout candidate for sure...
Other stocks to keep an eye on: TSL, SNTA and ZIOP
Feel like a kid in a candy store...
:-)
Enjoy~
kp
DISCLAIMER: All postings made here are strictly for my personal record keeping and in no way, shape or form, am I even remotely suggesting others to follow my Buy and Sell moves. Trading options is definitely not for the faint of heart as one's portfolio can move up, or down, anywhere between 10%-30% during a single trading day. Feel free to follow my progress here, but PLEASE do not follow my moves. However, if, in spite of all my exhortations, should you decide to do so, be advised that you, and ONLY YOU will be responsible for any losses that you may suffer...In other words, the onus is strictly on you. On the other hand, if the move(s) result in a profit for you, I am open to discussing a split. ;-)
Disclosure: I am long AAPL, ALIM, ARIA, ATHX, CYTR, GALE, GTAT, HALO, PSDV, RMTI, SNTA, SPWR, SUNE, TSL, VTUS, ZIOP.