I have been closely monitoring the Nasdaq since early March when it started it's downward spiral after printing an intra-day high of 4,371.71 on March 3rd, 2014 and then falling almost 426 points or 9.74%, to an intra-day low of 3946.028 printed 42 days later on April 15th.
Since then, for 4 consecutive weeks, Nasdaq has made higher lows on its weekly chart and then, this past Friday, it closed at 4,185.81, just above its April 9th intra-day high of 4,185.187.
I believe that by closing above 4,185 on Friday, the Nasdaq Index has ended it's downward swoon and will now be attacking its recent high of 4,371.71 and within the next 2-4 weeks, the Nasdaq should make a new near-term high. Once it has done that, it will then aim its sights on its all-time high of 5,132.52, set all the way back on March 10th, 2000.
As many of you know, I have been on the record, saying that this bull market will not take a breather until the NASDAQ makes a new all-time high, just like the S&P, the Dow and also the Russell 2000...Back in 2000, when the NASDAQ made it's last all-time high, there was no Google, no Facebook, no Apple (recently resurrected, that is) and no Tesla for that matter...and in spite of the addition of these mega market-cap companies to the index and in spite of the fact that these companies have been able to garner stratospheric valuation, the NASDAQ is yet to make a new all-time high...
If my market read is correct, then I expect the NASDAQ to make a big move up, as soon as tomorrow, but certainly in the next week or ten days max...and on substantially higher volume than its recent daily average...that should be the absolute final confirmation...
The following 3 charts graphically illustrate my assertion...
(click to enlarge)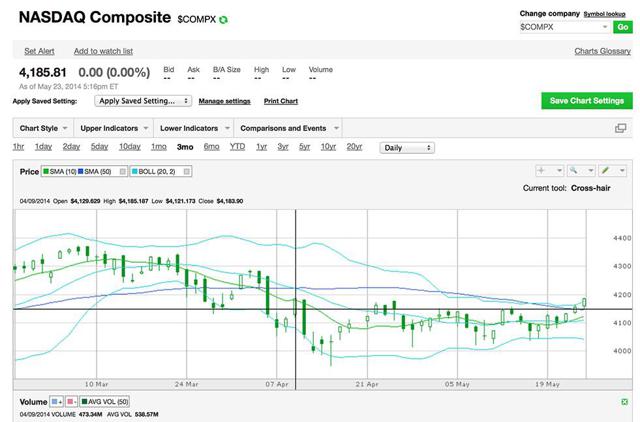 Click to enlarge
(click to enlarge)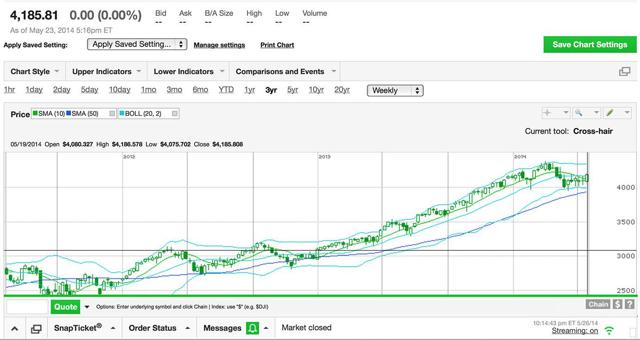 (click to enlarge)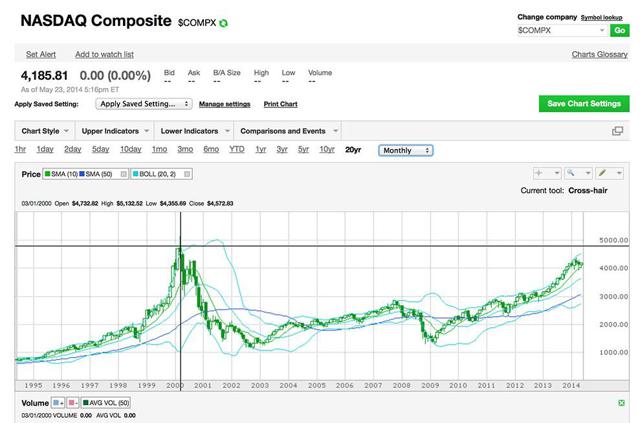 Click to enlarge
About 2 weeks ago, a friend asked for my thoughts on the Nasdaq's health and my comment to him was that there is way too much fear in the markets, which, to me, serves as the contrarian indicator...The markets love to climb the wall of fear...more fear, the better...And when I read headlines like David Tepper, the top hedge-fund manager who 2 years in a row was the nation's highest earning market prognosticator, and one of its biggest bulls, was getting nervous, to me, that was yet another signal that the Nasdaq has established a bottom and is heading higher...
Let's see if my reading of the tea leaves is correct and the markets head higher or whether David Tepper's nervousness is presciently flashing the correct red signal and the markets head lower, in which case, I'll have egg on my face...
All imho...
Side Note: For those who have been patiently waiting for me to start my newsletter, I finally have good news...Now that the Nasdaq has finally given me the buy signal, I am ready to start my new Options2Wealth fund!
karim
DISCLAIMER: All postings made here are strictly for my personal record keeping and in no way, shape or form, am I even remotely suggesting others to follow my pronouncements / prognostications. However, if, in spite of all my exhortations, should you decide to do so, be advised that you, and ONLY YOU will be responsible for any losses that you may suffer...In other words, the onus is strictly on you. On the other hand, if the move(s) result in a profit for you, I am open to discussing a split. ;-)