"By the end of this year, there could be more smartphones on the planet than humans", says equipment maker Cisco, "and by 2016, there could be 10 billion smartphones" this all according to Wim Elfrink, Cisco's head of globalisation. The tablet industry is not far behind either. Both of these industries, dominated by Apple's iOS until recently, now seem to be Google's Android's stronghold, which according to Kantar leads the market with 49.4% of the market share. And, Android owes a chunk of its popularity to Samsung Electronics (traded OTC only in the US). The smartphones and tablets segment, which the company labels "IM division", is the largest and the most profitable sector for Samsung. Now, with its biggest competitor in the industry pushed into the background and head-turning releases of both the tablet Note 8.0 and smartphone Galaxy Grand scheduled during the Mobile World Congress (MWC) in Barcelona, one is left to wonder what the tech-giant has got up its sleeve next.
The answer will be revealed on March 14th when the company unveils its new flagship smartphone, the Galaxy S4. The simple fact that the company is giving the superphone a dedicated launch ceremony says a lot about what we can expect of it. Traditionally, Samsung has only chased its rivals, and thrived by offering well-designed, well-placed substitutes. The S4, however, is poised to brand Samsung as a leader, and as the old adage holds, to the victor (or in this case, innovator) belong the spoils. What this means for the investor is higher stock prices in the immediate future up until March 14, with an opportunity to buy on dips post March 14 and Q1 earnings reports.
Historic Performance: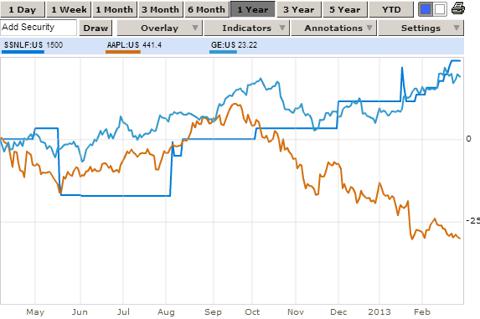 Source: BusinessWeek
If trends continue, investors should expect shares of SSNLF to continue their strong performance. The company's success, which is derived from its IM (smartphone and tablet) division has surpassed its immediate rivals and with major new announcements, we can expect the rate of return to accelerate.
The chart indicates an important factor: the market is building momentum in expectation of the S4 announcement. For investor, this translates into only a slight rise in the stock price as we head towards March 14th. Last year's release of the predecessor S3 exhibited a similar pattern. Price rose ex-ante and on the announcement day it was business as usual in the markets. Whether you choose to invest pre or post catalyst is a technical question, just don't expect much pullback after March 14th.
Samsung vs. Google: The Impact
In fierce competition with Apple, Samsung has become the dominant competitor, while riding on the back of the Android OS. While every new sale generates one-time profit for Samsung, Google gets paid for the content on Play store. Both companies are each other's life-lines, and both are realizing that it gives the other too much power and as a result, renegotiations may be on the table soon -- witness Google's recent $12.5 billion acquisition of Motorolla and Samsung's search for alternatives to the Android OS. The companies now classify each other as "Frenemies" but hostile developments are on the horizon. Both companies argue that their activities do not pose any threat to their current relationship, but as informed investors we should know better.
The good news is that Samsung has unveiled "Tizen", its own OS at the MWC. One critic writes in his review: "it (Tizen) could have looked less like an OS in its infancy" while another comments: "it looks like Android, but immediately we can tell that it is far from complete". Although the operating system may be in its "infancy" Samsung has rallied the support of major suppliers and end-users, and megaliths ZTE and Huawei have shown strong interest. Currently, Samsung has the lower-end smartphones market targeted for the OS but one can expect it to improve, and fast.
Then of course, there are cameras, phablets, tablets, refrigerators, TV's, semiconductors, LCD panels, laptops etc. and I can't help but help but wonder how a company could go wrong with such a stable product portfolio and commitment to innovation.
The numbers: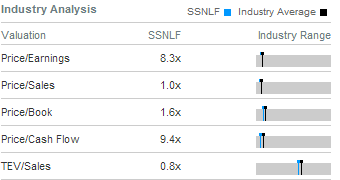 Source: Businessweek
Samsung Electronics' Price-earnings ratio (NYSE:PER) has fallen significantly from its 2009 value, but has largely remained stable around the 15% mark. Given the consistent increase in share prices, the falling PER can only be explained by an increase in Earnings per share (which is now over 10x its 2009 value). This marks a trend towards greater price stability, so we shouldn't expect any negative surprises in the near future. Samsung's stock continues to strengthen and is moving towards the industry average, which for long term investors, is great news.
The company's price to book ratio improved slightly over the same period -- the result of improving book-value-per-share and as it approaches the industry average, an era of improved stock performance is being ushered in. However, for a company this strong, the rate of improvement remains relatively rather low and investors should continue to monitor this ratio throughout 2013.
Financial ratios, however, present a slightly different picture. Samsung's return on assets (ROA), return on equity (ROE) have both fallen, much of which the company attributes to "intensified competition, strong seasonality and lower replacement sales". We should consider the release of iPhone 5 and the iPad mini which negatively impacted Samsung's bottom lines. Ongoing problems in developed markets also had a negative impact on key financial data. "Despite uncertainties in Europe and concerns over the U.S. fiscal cliff creating a difficult business environment, we did our best this quarter to achieve strong earnings based on a strategic focus on differentiated and high value-added products as well as our technological competitiveness," said Robert Yi, Senior Vice President and Head of Investor Relations in his 2012 Q4 press release.
Future Outlook:
The full-year 2012 operating profit reported by Samsung was approximately $26.6 billion on revenue of about $184.5 billion, a whopping year-on-year increase of almost 4.5%. And it was, by the company's standards, a disappointment. For this year, Samsung is expecting a slow recovery in the component business due to reduced capital expenditures, while competition in the smartphone business will intensify further as demand slows and the mid- to low-end market expands.
Beyond the IT and Mobile Communications (NYSE:IM) Division, Samsung is well-positioned for the remainder of 2013, where it expects high value added DRAM for mobile devices and servers leading to sustained profitability. Demand for logic products and NAND solutions including SSDs is also expected to remain strong throughout the year, as the industry puts greater emphasis on devices with higher capacity, greater processing power and mobility.
The OLED premium TVs that Samsung perfected last year will be a driving force for the company's bottom line, with demand for large-size LED TVs as well as OLED panels for tablet and smartphones expected to increase. March, in particular, is expected to be a good month. According to an official press-release, panel demand will greatly improve due to TV and tablet product launches by manufacturers.
Perhaps the best move by Samsung is its concentration on emerging markets, where its smartphones sales outnumber its competitors by multiples. The greatest threat, perhaps, is by the new comers ZTE and Huawei and to a lesser extent by HTC, but given Samsung's towering market presence, it will require thermonuclear war to dislodge the company. Televisions and tablets are another lucrative segment in these countries, and Samsung appears to be expanding and growing in these areas as well.
The crux of the thesis is this: the company is expecting less from the IM division and more from the others in 2013. This does not mean that the IM division will underperform this year, rather, the proportion of revenues generated from this division is expected to decrease. Having filled the top-of-the line niche, Samsung now has turned its focus towards the lower end ranges, which carry lower margins, but should result in long term success.
The Company's reports and market data suggest that 2013 Q1 will be worse than the last quarter. This follows the 5 year trend and is expected. Nevertheless, the market will show a somewhat adverse reaction to the earnings announcement. For short term investors, the time to sell is immediately after March 14th, up till end of the month. The loyalists and the long term investors are better off holding Samsung at least till end of Q3, which marks the end of peak season for the industry. Samsung has expressed its continued commitment to increasing shareholder return in the form of dividends and share buy-backs, so the investor's return on investment is expected to remain secure.
For rational fundamental investors, shares of Samsung Electronics provide a solid opportunity. The company continues to win lawsuits, launch solid products, and innovate. The horizon looks grand aboard Samsung's ship.
Disclosure: I have no positions in any stocks mentioned, and no plans to initiate any positions within the next 72 hours. I wrote this article myself, and it expresses my own opinions. I am not receiving compensation for it (other than from Seeking Alpha). I have no business relationship with any company whose stock is mentioned in this article.
Additional disclosure: Hi, I cited quotes.