Using SPDR Gold Shares ETF (NYSEARCA:GLD) as the basis of comparison, I am addressing two questions/comments on one of my articles, Gold Bullion ETFs, Closed-End Funds, or Gold Mining Stocks - Which is the Best Investment?:
Noneleft posted a comment:
In Closed End Funds you looked at those holding miners. There are two which hold metal (CEF and GTU which hold a mix of gold and silver; and gold respectively) - it would have been especially useful (well, to me at least :-) to see how these compare to both the miner funds, and also the metal ETFs in the first section.

I think there are a number of SA readers who are particularly interested in these two funds as they are considered safer and more transparently backed by real metal than the ETFs, while still benefiting from the advantage of instant tradability on a US exchange.
David at Imperial Beach commented:
Noneleft makes a valid point that this article ignored an alternative that many investors would find attractive. Personally I favor (NYSEARCA:GDX) or its 3x alternative (NYSEARCA:NUGT) because they tend to follow the price of bullion better than any individual miner stock.
As these four securities have been outside of my past research, I thought that it would be interesting to see if my previous conclusions - that GLDis the best return for investors - can be sustained.
First, Let's examine the composition/goals of these securities:
| | | |
| --- | --- | --- |
| Company (Ticker) | Yield (%) | Description |
| Central Fund of Canada Limited (NYSEMKT:CEF) | 0.05% | Central Fund of Canada Limited (Central Fund) is an investment holding company. The Company provides alternative for investors in holding marketable gold and silver related investments. It invests its assets in holdings of unencumbered, allocated and segregated gold and silver bullion. Central Fund holds its assets in gold and silver bullion, in international bar form. Central Fund's nominal holdings of bullion certificates are deposited with Canadian Imperial Bank of Commerce (CIBC). As of October 31, 2010, approximately 50 ounces of silver were held for each fine ounce of gold held. As of October 31, 2010, Central Fund's net assets consisted of 51.9% gold bullion and certificates, 46.1% silver bullion and certificates, and 2% cash and other working capital amounts. |
| Central GoldTrust CEF (NYSEMKT:GTU) | 0.00% | GoldTrust is a gold holding trust created to buy and hold substantially all of its assets in long-term holdings of gold bullion. The primary objective of GoldTrust is to provide a secure, convenient, low-cost, exchange-tradeable alternative for investors interested in holding an investment in gold bullion. GoldTrust's physical gold is stored on an allocated and segregated basis in the underground treasury vaults of a bank in Canada. All gold bullion owned by GoldTrust must be stored in Canada in the treasury vault facilities of a tier 1 Canadian chartered bank on an allocated and segregated basis. |
| Market Vectors Gold Miners ETF (GDX) | 0.30% | The Gold Miners ETF seeks to replicate as closely as possible, before fees and expenses, the total return performance of the NYSE Arca Environmental Services Index. The Index provides targeted exposure to 27 companies worldwide involved in mining for gold or silver ore, representing a diversified blend of small-, mid- and large-capitalization stocks. The Fund normally invests at least 80% of its total assets in common stocks and American depositary receipts of companies involved in the environmental services industry. |
| Direxion Daily Gold Miners Bull 3x Shares ETF (NUGT) | 0.00% | The Daily Gold Miners Bull 3x shares seeks daily investment results, before fees and expenses, of 300% of the performance of the NYSE Arca GoldMiners Index ("Gold Miners Index"). |
Let's benchmark these securities against SPDR Gold Shares ETF (GLD) to see if this changes our conclusion that GLD outperforms other gold-investment securities. Again, all graphs are courtesy of CIBC Investors Edge.
First let's look at CEF and GTU. Both of these hold gold bullion and/or certificates, and in the case of CEF, silver, as well: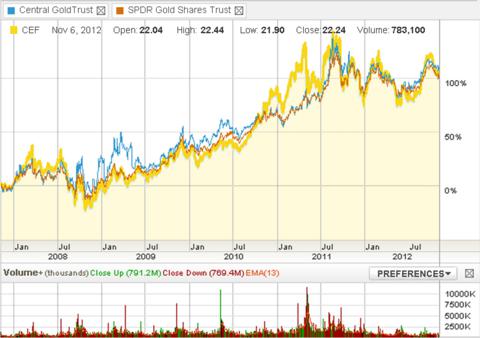 There are more similarities than differences to the performance of GLD, but there are differences. For example, before 2010, CEF (the heavy trend line) underperformed GLD (red trend line) , but sometimes outperformed it subsequently. The opposite trend is often true with GTU(blue trend line). As I have not invested or researched either, I assume that the variances can be explained by:
CEF: Almost one-half of the holdings are silver and cash (so we should expect variances from this, alone).
GTU: This is a Canadian CEF. Can the differences be explained by Canadian currency differences (versus USD-denominated gold), and/or premium/discount to the NAV (Net Asset Value)?
I decided to benchmark the two gold-miner ETFs (GDX, NUGT) against both GLD (our "gold standard") and Goldcorp (NYSE:GG) (our "standard gold miner"). The top trend-line - GLD - is clearly the performance winner, with Goldcorp in second place; in fact, before 2010, Goldcorp often outperformed the SPDR Gold Shares ETF (GLD).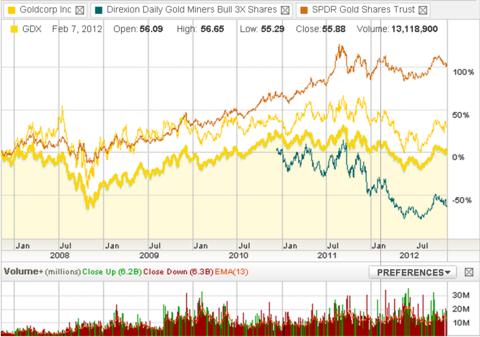 The bottom two trend lines are the Market Vectors Gold Miners ETF (GDX), and Direxion Daily Gold Miners Bull 3x Shares ETF (NUGT).
Again, GDX as a gold and other resources mining fund, does not track the price of the underlying commodity; this is no different in concept from the results of GAMCO Global Gold Natural Resources & Income Trust (NYSEMKT:GGN) in the article, except that GGN returns most of its performance as yield (and return of capital). Both are funds, predominantly with gold-miners, but include a broader mix of companies; therefore, the results are more dependent on the choice and performance of the companies, rather than the commodity.
I presume that the Direxion Daily Gold Miners Bull 3x Shares ETF (NUGT) - the worst-performing, green trend line on this chart - is only for extremely short-term holds. The daily rebalancing to buy three times the number of forward contracts on the portfolio positions would seem to consume the underlying capital. Although this is outside my domain expertise, it would not seem to be a long-term investment security to me. It appears that the investor must anticipate a price spike, buy, and then sell immediately (within a few days), to make money. Of course, this is simply my speculation, as I have tried and failed with a double-bull natural gas ETF in Canada. Perhaps someone with more knowledge could explain how a long-term investor can make money holding positions which would incur these daily fees?
The conclusion is little difference from the previous article. The pure gold play - GLD or the equivalent ETF - appears to provide the best return. There are exceptions - blending gold and silver bullion may have appeal and a better return, or a gold miner may outperform its underlying commodity - but generally, gold (GLD) is "golden".
This wraps up my response to these two excellent questions! Thanks, again, for your interest and readership!
Disclosure: I am long GGN.