On January 27, 2014, Apple posted record quarterly revenue of more than $57B, with a net profit of more than $13B. Clearly shares were trading higher after the announcement right? In the words of Lee Corso, "Not so fast my friend!"
Shares of Apple (NASDAQ:AAPL) were in a free fall as investors ran for the hills after the Company announced record first quarter results. During after-hours trading, shares closed down more than 8%. So what happened to cause such a sell-off? Two words; analyst expectations.
Even though Apple beat on both the top ($57.5B vs $57.4B) and bottom lines ($14.50 vs $14.07), analysts expected bigger iPhone sales over the holiday season.
Apple said it sold 51M iPhones, an all-time quarterly record. This comes out to more than 17M a month, or 16% of the entire U.S population. Let's not forget either that this is just one quarter of sales. Nevertheless, because of high expectations from analysts and investors, even record breaking results left many feeling a bit unimpressed.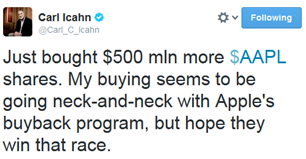 Hedge fund billionaire Carl Icahn seemed to be one of the few that were impressed as he continued his Apple spending spree buying another $500M worth of stock.
Icahns latest investment in Apple makes his stake valued at more than $4B. In a telephone interview with Reuters, Icahn stated that the decline in Apple shares presented "a great opportunity" to add to his position.
"Apple shares are very cheap. They are going at six to seven times earning. ...It's not like we are holding something that is trading at 100 times earnings." - Carl Icahn
Analyst Upgrades & Downgrades
Gene Munster, an analyst at Piper Jaffray, reiterated his Overweight rating on the stock and stuck with his $640 price target.
Analyst Brian Marshall of ISI Group reiterated a Strong Buy rating on Apple with a $600 price target. Marshall noted that Apple's problem was more to do with a slowdown in China, rather than in North America. Marshall went to say that he thinks the China Mobile deal still stands to add a lot to Apple's results that aren't yet baked in.
Not all analysts were praising Apple though as several firms such as J.P. Morgan, Goldman Sachs, and Credit Suisse among others, cut Apple's price target after guidance came in lower that most expected.
Forget Expectations, Look Under The Hood
Have you ever invested in a stock because analysts had price targets that were going to give you great returns? While analysts have a lot of tools and resources at their disposal that many investors do not, basing your entire investment decisions on them isn't always the right way to go.
You see it all the time during the earnings season. A company will report its earnings and analysts will come out with new recommendations (Buy, Sell or Hold), accompanied by new price targets.
One stock I was following a couple of years ago had a price target well into the $100's by certain analysts. A couple of months later they came out with multiple revised reports. Soon those $100 targets were a thing of the past as $30 became the new norm. Certainly some analysts had there head in the sand which is why investors need to do their due diligence and not rely solely on analyst recommendations among other things.
One of the most basic principles that all investors can do is look at the fundamentals of a company. So how do Apple's fundamentals look and are there any red flags for investors?
| | | |
| --- | --- | --- |
| Apple's Fundamentals | Apple | Apple's Peers |
| Cash | $159B | N/A |
| Debt | $16.9B | N/A |
| Trailing P/E | 13.32 | 15.20 |
| Forward P/E | 11.59 | 15.01 |
| PEG Ratio | 0.63 | 1.06 |
| Profit Margin | 21.28% | 19.94% |
| Operating Margin | 28.31% | 23.72% |
| Return on Assets | 17.58% | 11.61% |
| Return on Equity | 28.81% | 19.27% |
| Sales Growth (5yrs) | 35.45% | 10.39% |
| Cash Per Share | $178.25 | N/A |
Looking at the table above, it becomes quite obvious that shares are trading at a nice bargain right now as the Company's fundamentals clearly outshine its "peers".
Looking at the current valuation right now, Apple is selling just under 12x this year's expected earnings, a nice discount to the overall market multiple of 15x. If Apple traded at a multiple of 15X, shares would trade for $642.15, representing upside of more than 20%.
If we subtract Apple's stack of cash from the equation along with its debt, Apple would be trading at approximately 9.18x FY2014's and 8.49x FY 2015's projected earnings. Talk about shares being a bargain. This is a bargain of all bargains as the Company continues to reduce the float by buying back its shares at a fast rate.
On top of that, how can investors pass up on the nice dividend yield that Apple offers its shareholders. Certainly with all of this, Apple makes a fantastic case as to why investors should own or seriously consider holding this stock this year and going forward.
Another thing that jumps out to me is that Apple's cash per share stands just under $180. This means that Apple, with a market capitalization of 478B, would have 33.2% of its value explained just by its cash on hand. Meanwhile its users, stores, warehouses, software, patents, trademarks, partnerships among many other things, are currently being valued at just 66.8%. So how does Apple stack up to some of its peers? Just take a look at the table below.
| | | | | | | |
| --- | --- | --- | --- | --- | --- | --- |
|   | Apple | Google | Microsoft | Cisco | Nokia | Hewlett-Packard |
| Cash Per Share | $178.25 | $174.84 | $10.00 | $9.00 | $3.23 | $6.36 |
| Cash to Market Capitalization | 33.2% | 14.7% | 26.6% | 39% | 45% | 21.6% |
| Cash to Market Capitalization Accounting For Debt | 26.4% | 13.0% | 19.0% | 26.1% | 12.6% | N/A |
As you can see, Apple once again comes away with the gold medal. So why have shares struggled to climb higher if Apple is so superior to its peers? Yup, you got it, it all comes back to analyst expectations once again.
For some reason expectations for Apple tend to always be sky high for the Company. This often translates to poor results for the stock price during the earnings season as investors run for the hills because Apple "came in below" analyst expectations.
Conclusion
Have you ever tried to impress somebody but no matter what you did they never seemed to be impressed? This is exactly what Apple is going through right now.
Unfortunately for Apple and its shareholders, the company's biggest problem isn't innovating or making high quality products, but rather something the company cannot relatively solve, and that my friends is analyst expectations. Clearly the bar has been set too high as even Apple's record breaking results quarter after quarter are unimpressive to Wall Street. That is why it is very important for investors to do their own due diligence and not rely on analyst recommendations as the sole purpose for getting into a particular stock.
Just looking at Apple's share price right now ($544), we can see that Apple is making a roaring comeback as it looks that investors are starting to realize that they should focus on Apple's core fundamentals rather then what analysts are projecting for the Company.
Apple has proven and continued to deliver strong results over time and I believe investors should continue to focus on that, rather than the expectations of analysts. With new and upgraded products coming in 2014, I expect shares to give investors great returns over the coming years.
As always, I'm providing you with my track record and other particular stocks that I recommend. The link provided will show you all of my picks, how they have fared, and where I think they will be going in the near future. I think you will find my track record to be very impressive as well as useful.
Disclaimer: Investors are always reminded that before making any investment, you should do your own proper diligence on any stock mentioned in this article. Have a great day and as always, I look forward to hearing your thoughts or questions that you might have.
Disclosure: I have no positions in any stocks mentioned, but may initiate a long position in AAPL over the next 72 hours. I wrote this article myself, and it expresses my own opinions. I am not receiving compensation for it (other than from Seeking Alpha). I have no business relationship with any company whose stock is mentioned in this article.