CVR Energy, Inc. (NYSE:CVI) has been trading virtually flat around $54.15 since it went ex-dividend for its special $5.50 distribution on February 5, 2013. With its year end results and quarterly earnings report scheduled for March 11th, investors are playing a watch and wait game. This is a foolish mistake for the long term investor. There is no reason to wait.
The distribution of $480 million was accompanied by an announcement to implement a regular dividend plan beginning in the 2nd quarter of 2013 of $3.00 per share annually (paid $0.75/quarter).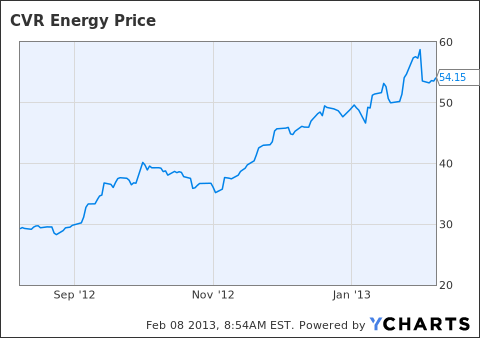 Icahn, chairman of CVR Energy, said in a statement the new dividend policy
"...reflects the strength of our balance sheet, our fundamental ability to generate free cash flow and our confidence in the future prospects of our business."
Projected free cash flow for 2013 is $427 million. The $3.00 annual dividend represents a very comfortable 61% payout ratio. Extremely low in fact for a MLP.
CVI's expanding urea production and expected completion of its planned urea expansion upgrade to existing plant in March 2013 are expected to provide growing revenue streams for short and midterm increases in dividend distributions. The long term outlook for U.S. refinery margins and urea prices also continues to look very favorable.
The distribution of a large special dividend in the past few weeks along with the implementation of a conservative regular dividend are reasons enough for long term investors not to wait for the March 11th financial reports. Nothing possibly could reveal itself in them that would effect the long term analysis of the investment prospects. Only speculators will trade and be vulnerable to the short term up or down ripples any earnings surprises or disappointments might make.
But don't rush out and buy on the open market at retail. There is no need to pay the $54.15 current trading price just because you want to own the shares now. I showed you how to avoid the wait and buy stocks at a discount with an example in my article Looking Beyond The Obvious To Find An 11.2% Yield On StoneMor Partners . This tactic was more fully discussed in my blog: How To Buy Stocks Wholesale (SSW On Sale At 9.4% Discount) . You can use these techniques for CVI now by selling of cash covered puts to lower your effective entry price to a significant discount from current retail share prices (or alternatively if the put contract shares are not presented to you, to generate a yield even higher than owning those shares simply by pocketing the put premiums each month).
Let's examine the current puts for CVI. The March 16 $52 put is trading at $1.35. This allows you to sell the cash covered put now instead of waiting to buy shares after the March 11th financial reports and to do so at an effective entry price of $50.65 if the shares are in fact put to you. That is a discount from today's retail $54.15 trading price of $3.50 ( 6.5% discount). The $1.35 premium you are paid represents a 2.6% yield on the $52 of your cash you tie up as the cash cover in the put contract for the next 36 days (an annualized yield rate of 23.4%) if the shares are not presented to you and you miss out on buying them for the moment. since 23.4% represents almost five times (5X) the yield on the share dividend, it is in many ways more attractive then owning the stock anyway. Of course, in the event the shares do not get put to you, you have the $1.35 cash you were paid for the premium and so can still look to enter the stock after March 16th at prices up to $55.50 (54.15 plus 1.35) without paying more than you would have today on the retail share price.
I am not a licensed securities dealer or advisor. The views here are solely my own and should not be considered or used for investment advice. As always, individuals should determine the suitability for their own situation and perform their own due diligence before making any investment.
Good luck and good investing.
Disclosure: I am long CVI.