Philips (PH.AS) has been a steady performer for decades now but only recently have we begun to see strong signals of an upward rally to the €24 mark. An explanation of the scenario:
On a technical note, we notice that the recent highs are becoming more frequent than ever before indicating a steady rise towards the northside. As soon as the Pivot High point is reached at 20.40, the chance is great that the ascent to 24.00 is imminent.
Objectively speaking, there has been much bullish support for the stock for the majority of 2012, and the predictions have turned out right. But don't take my word for it, see what the analysts have predicted.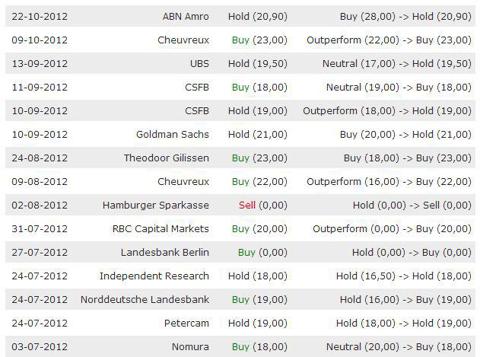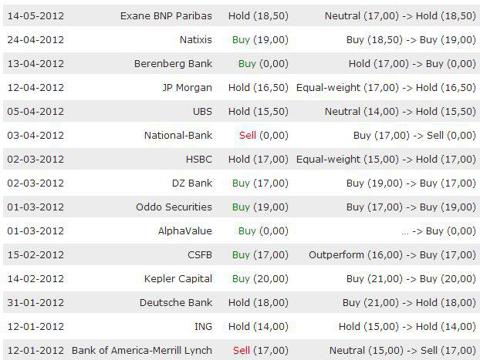 Now cross check this with the share price movement in 2012:

What we have noticed over the past year can be directly translated into an overall sense of confidence in the Philips stock. Investors and analysts know what they are talking about so you can just imagine what 2013 is going to be like.
2013 is in fact believed by many to be another very positive year for Philips. There is an overall lack of worry and a generally positive sentiment as far as analysts are concerned so further upward momentum will most likely be the effect.
To confirm this, we noticed the typical Engulfing Pattern just last week believed to be a bullish movement significant of a continuous upward trend.
Support levels the coming week are set at 19.50. Should the rate remain anywhere above this line, the scenario towards the 24.00 mark remains the most probable scenario.
So my advice for the coming week: wait for the 20.40 resistance level to be met and then wait for the right dip moment for the buying opportunity. Take on a hold sentiment should the 19.50 support level be reached.
Disclosure: I have no positions in any stocks mentioned, and no plans to initiate any positions within the next 72 hours. I wrote this article myself, and it expresses my own opinions. I am not receiving compensation for it (other than from Seeking Alpha). I have no business relationship with any company whose stock is mentioned in this article.