Our estemmed colleague Herb Greenberg of CNBC recently published an article entitled: "Restaurants Living in Denial?"  In the article Mr. Greenberg argues that the combination of high food cost inflation and surging gasoline prices could represent a "double whammy" for operators in the casual dining and QSR space, which he asserts is not yet discounted in the stocks.

As fate would have it, we recently concluded a survey of 125-150 independent restaurants across the country.  The median check size at the restaurants we surveyed is in the $40-$50 range, which makes the respondents fairly representative of operators in the casual dining space.

Interestingly enough, food costs are not the number one concern of restaurant operators current.  In aggreagate, only 55% of respondents identified food costs as their biggest or second largest concern.  This suggests that restaurant operators are not necessarily in denial about food cost inflation, but appear to be far more focused on the general state of the economy.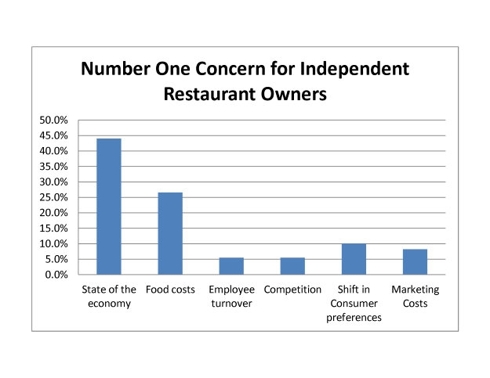 It should come as no surprise that economic concerns trump those of food cost inflation. You need to have traffic before you can even start to worry about gross margin pressure.  Interestingly enough, the restaurant operators we surveyed are fairly bullish on revenue growth prospects for 1Q11. Despite difficult weather in many regions of the country, traffic trends remain strong.  On average the independent restaurant owners we surveyed expect 1Q11 revenues to increase in a mid to high single digit range on a YOY basis.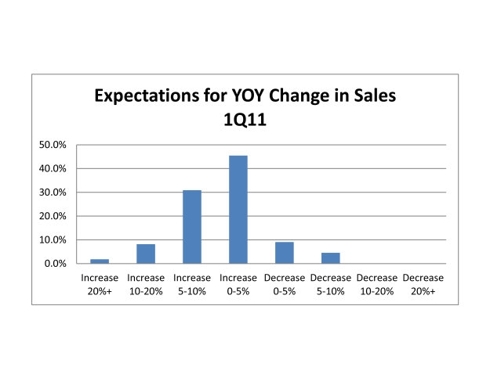 In the near term, it does not appear like higher gas prices have had an impact on traffic trends, that doesn't mean they won't by the second quarter.  This type of improvement in traffic is more than sufficient to offset food cost inflation for a restaurant owner.  Based on the results of this survey it seems reasonable to assume fairly solid results for most operators in the casual dining space for the first quarter. Beyond that, it's anyone's guess as to where oil goes and what that might mean for traffic.  Restaurant owners and publicly traded casual dining companies are not in denial, they're just not in the business of speculating on oil prices.

As always, please act accordingly....



Disclosure: I have no positions in any stocks mentioned, and no plans to initiate any positions within the next 72 hours.