Here are a few top open market purchases made by insiders over the last week. For each company, we'll list the individuals involved, and the size of the transaction.

To give some perspective on investor sentiment, we'll also include short float and performance data.

Insider data sourced from the SEC, short float data sourced from Finviz.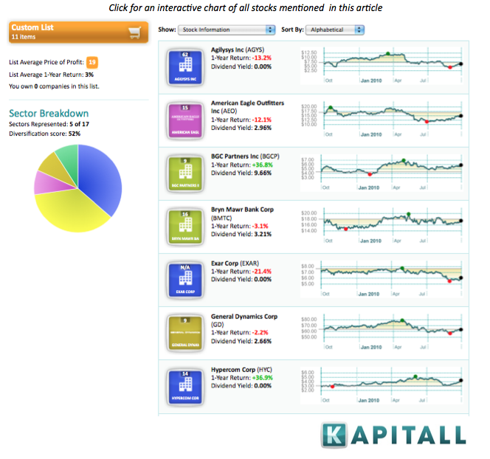 The list has been sorted alphabetically.

1. American Eagle Outfitters, Inc. (NYSE:AEO): Market cap of $2,916B. Michael G. Jesselson (Director) bought $289,043 worth of stock on September 22. Short float at 7.06%, which implies a short ratio of 2.6 days. The stock has lost 9.09% over the last year.

2. Agilysys Inc. (NASDAQ:AGYS): Market cap of $147M. Mak Capital One LLC (10% Owner) bought $1,732,895 worth of stock between September 20-27. Short float at 3.20%, which implies a short ratio of 4.42 days. The stock has lost 13.18% over the last year.

3. BGC Partners, Inc. (NASDAQ:BGCP): Market cap of $541M. Howard W. Lutnik (Chairman and CEO) bought $279,028 worth of stock on September 20. Short float at 9.44%, which implies a short ratio of 12.85 days. The stock has gained 47.64% over the last year.

4. Bryn Mawr Bank Corp. (NASDAQ:BMTC): Market cap of $208M. George W. Connell (10% Owner) bought $168,765 worth of stock between September 20-22. Short float at 3.59%, which implies a short ratio of 13.22 days. The stock has gained 0.23% over the last year.

5. Exar Corp. (NASDAQ:EXAR): Market cap of $267M. Soros Fund Management LLC (10% Owner) bought $10,540,362 worth of stock between September 21-23. Short float at 3.79%, which implies a short ratio of 6.92 days. The stock has lost 21.43% over the last year.

6. Winthrop Realty Trust (NYSE:FUR): Market cap of $269M. Michael L. Ashner (Chairman and CEO) bought $2,430,400 worth of stock on September 27. Short float at 5.17%, which implies a short ratio of 6.06 days. The stock has gained 35.36% over the last year.

7. General Dynamics Corp. (NYSE:GD): Market cap of $23,986B. William P. Fricks (Director) bought $127,160 worth of stock on September 24. Short float at 1.19%, which implies a short ratio of 2.03 days. The stock has gained 0.16% over the last year.

8. Hypercom Corp. (NYSE:HYC): Market cap of $234M. Alex Meruelo (10% Owner) bought $702,067 worth of stock between September 21-23. Short float at 5.29%, which implies a short ratio of 7.82 days. The stock has gained 3.89% over the last year.

9. Tutor Perini Corporation (NYSE:TPC): Market cap of $948M. Peter Arkley (Director) bought $351,000 worth of stock on September 20. Short float at 8.18%, which implies a short ratio of 6.45 days. The stock has lost 3.41% over the last year.

10. United Community Banks, Inc. (NASDAQ:UCBI): Market cap of $209M. Robert L. Head Jr. (Director) bought $418,990 worth of stock on May 28 and W. C. Nelson Jr. (Director) bought $224,185 worth of stock on August 31. Short float at 8.32%, which implies a short ratio of 9.02 days. The stock has lost 55.95% over the last year.

11. WESCO International Inc. (NYSE:WCC): Market cap of $1,865B. Kimberly G. Windrow (Vice President, Human Resources) bought $150,691 worth of stock on September 27. Short float at 10.95%, which implies a short ratio of 9.36 days. The stock has gained 37.92% over the last year.


Disclosure: No positions