Restaurant Research LLC

The Problem with Analyzing Restaurant Sales in the Rear View Mirror
Restaurant Research just published our 3Q12 same-store-sales report for 44 $1B+ restaurant concepts which includes data for the last 5 years as well as the last 5 quarters.
As evident in chart below, industry sales closely track the decline in CPI for food-away-from-home. As grocery store prices continue to decline, more consumers opt to eat at home in favor of dining out.
This contrasts with the steady increase in CPI for QSR prices (limited service restaurants) which have steadily ramped-up over the last 4 quarters as the big chains had previously anticipated a strengthening economy at the end of 2011 and into the beginning of 2012.
However, last winter's warm weather most likely sent a false signal to brand managers that consumer financial strength was improving when their increased spending at the time was actually a false positive in terms of predicting an economic rebound.
Currently, McDonald's strategy to re-emphasize its dollar menu will help lead the entire industry to follow suit. Once the equilibrium between industry prices, grocery prices and economic condition is re-established, we should expect chain restaurant sales to rebound (albeit at the expense of margins).
In our opinion, the industry needs a greater ability to adapt real-time pricing changes in order to eliminate the lag involved with figuring out pricing miscues by virtue of a look back into the rear-view mirror. This will likely require the implementation of more digital assets (big data IT platforms, digital menu boards, etc.) in order for chains to adapt more quickly. However, the more the larger chains leverage their scale in IT, the more competitive advantage they will enjoy and the better they will serve all their stakeholders (including investors and franchisees), not to mention their very price sensitive customers.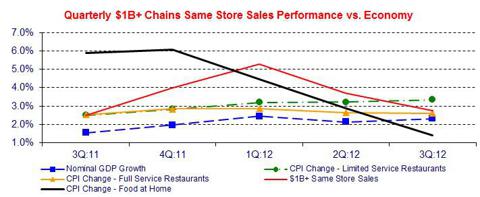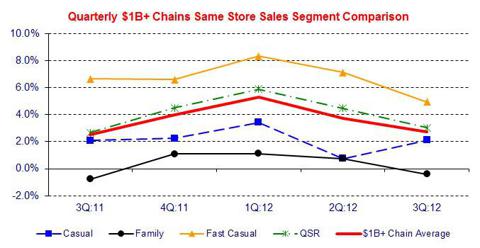 Source: RR
Make Restaurant Research your outsourced research department. Leverage our extensive network and expertise at a fraction of what it would cost for you to do your own due diligence/business intelligence/benchmarking the right way. For more information, please contact us at (203) 938-4703 or pmangieri@chainrestaurantdata.com.
Disclaimer of Liability: Although the information in this report has been obtained from sources Restaurant Research® LLC believes to be reliable, RR does not guarantee its accuracy. The views expressed herein are subject to change without notice and in no case can be considered as an offer or solicitation with regard to the purchase or sales of any securities. Restaurant Research's analyses and opinions are not a guarantee of the future performance of any company or individual franchisee. RR disclaims all liability for any misstatements or omissions that occur in the publication of this report. In making this report available, no client, advisory, fiduciary or professional relationship is implied or established. This report is intended to provide an overview of the restaurant industry, but cannot be used as a substitute for independent investigations and sound business judgment. Copyright 2012.