Restaurant Research LLC

January 2013 Wrap-Up
2013 got off to a good start with restaurant stocks outperforming the broader market during January with our RR Stock Average increasing +6.3% y/y vs. a +5.3% increase for the S&P 500 Index. January's restaurant stock strength was broad based with only 2 companies out of 30 losing ground (YUM! and Ruby Tuesday). In any case, restaurant stocks (or the broader market for that matter) are unlikely to keep-up this pace of increase (which equates to an annualized growth rate of +60% to +70%) especially when considering that there is no material economic improvement to point to. Sure, the employment picture improved slightly with the BLS's non-farm employment number increasing +1.6% y/y during January while gas prices continue to ease. However, commodity costs are less than cooperative with no relief in sight. Also, the sunset of payroll tax relief can't help the industry much. We note that last month's major corporate announcements (on the following 2 pages) mostly point to a very competitive environment with the key players working hard at value while also trying to distinguish themselves at the high-end. Notably, DelaGet's traffic data (page 4) shows an improvement in QSR during the month with a less positive story for sit-down restaurants. While that may be, DelaGet shows that absolute traffic levels are down about -5% from their historical averages for both segments. In conclusion, restaurant operators should take-away that while industry fundamentals are stable (not great), investors in their brands certainly saw something about the future that got them excited last month.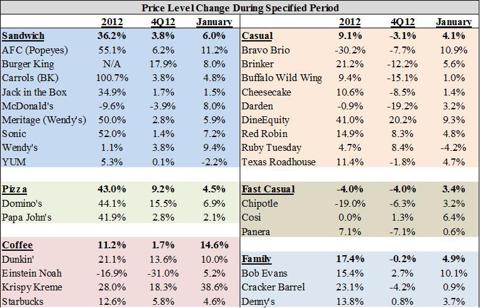 Contact Phil Mangieri at (203) 938-4703 or pmangieri@ChainRestaurantData.com with questions or comments.
Copyright 2013 Restaurant Research® LLC. All rights reserved.
Disclaimer of Liability: Although the information in this report has been obtained from sources Restaurant Research® LLC believes to be reliable, RR does not guarantee its accuracy. The views expressed herein are subject to change without notice and in no case can be considered as an offer or solicitation with regard to the purchase or sales of any securities. Restaurant Research's analyses and opinions are not a guarantee of the future performance of any company or individual franchisee. RR disclaims all liability for any misstatements or omissions that occur in the publication of this report. In making this report available, no client, advisory, fiduciary or professional relationship is implied or established. This report is intended to provide an overview of the restaurant industry, but cannot be used as a substitute for independent investigations and sound business judgment.