(click to enlarge)

Click to enlarge
Sale Leasebacks Play Increasing Role in Franchise Finance
Traditional franchise bank loans in the chain restaurant space have steadily decreased as a percent of total funding with the mix falling from a pre-recession level of 94% to 84% expected this year.
In turn, the sale leaseback financing mix has increased from 5% to 14% during this same period.
As evident in chart below, traditional bank loan originations increased sharply in 2012 with most of the gains expected to hold this year. Therefore, it is important to understand that the growth in sale leaseback financing has been incremental to total origination growth with the arrival of Store Capital in the middle of 2010 having a big impact on the overall market.
Increased sale leaseback activity benefits from steadily lower cap rates which, in turn, increase real estate collateral value.
Implications? The possibility of real estate appreciation provides a big reason to invest in a restaurant franchise. While unit level P&L fundamentals have been driving the business for some time (as the real estate market tanked), a rising real estate market provides added confidence to both operators and lenders.
(click to enlarge)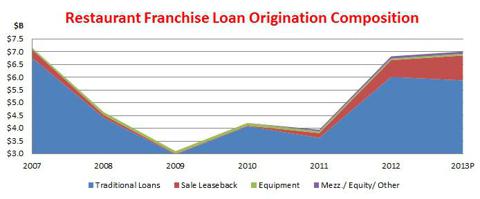 Click to enlarge
Source: RR's Restaurant Finance & Valuations Report - February 2013
Recent RR Reports

Concept Reports

Industry Data Reports

Databases

Panera

Restaurant Finance & Valuations

Menu & Promotion Database

Sonic

Promotions

Chain Restaurant Database

Church's

Healthcare Survey

Databook

Chili's

4Q:12 Same-Store-Sales

Unit Economics Database
For information on how to order the complete report, please contact us at (203) 938-4703 or pmangieri@ChainRestaurantData.com.
RR Clients
Includes major lenders, investors, major US restaurant chains, operators and industry consultants. Please check www.ChainRestaurantData.com for a partial client list and customer testimonials.
More About Us
Restaurant Research LLC leverages an extensive network of industry players as part of its annual Concept Benchmark Analysis due diligence process for 22 large US restaurant chains. Also, RR tracks store level data for all major chains with system-wide sales in excess of $1B across all major restaurant segments in order to produce 11 key Industry Data Topic reports.
Copyright 2013 Restaurant Research® LLC. All rights reserved.
Disclaimer of Liability: Although the information in this report has been obtained from sources Restaurant Research® LLC believes to be reliable, RR does not guarantee its accuracy. The views expressed herein are subject to change without notice and in no case can be considered as an offer or solicitation with regard to the purchase or sales of any securities. Restaurant Research's analyses and opinions are not a guarantee of the future performance of any company or individual franchisee. RR disclaims all liability for any misstatements or omissions that occur in the publication of this report. In making this report available, no client, advisory, fiduciary or professional relationship is implied or established. This report is intended to provide an overview of the restaurant industry, but cannot be used as a substitute for independent investigations and sound business judgment.