Restaurant Research Think Piece

Industry Lesson from C-Stores
What happens when ramping gas prices cause volumes to decline? Answer: the c-store industry increases margins sufficiently to maintain gross profit over time as evident by bottom chart.
How does this relate to restaurant operators? Prospects of higher labor costs stemming from Obamacare and possibly higher minimum wage requirements means higher menu prices and, likely, lower traffic.
However, we expect that rational industry-wide menu price increases will be sufficient to maintain restaurant store level profits despite lower traffic levels.
Just like the c-store industry demonstrated sufficient resiliency to ultimately adjust prices to reflect their fixed costs, the restaurant industry will also adapt.
Conclusion? Higher costs necessarily mean even higher retail prices. This translates into more gas efficient cars and thinner diners, but still profitable operators...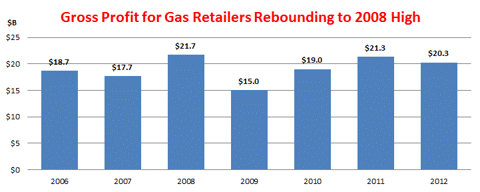 Sources: Restaurant Research, Hopkins Appraisal & EIA
RR Clients
Includes major lenders, investors, major US restaurant chains, operators and industry consultants. Please check www.ChainRestaurantData.com for a partial client list and customer testimonials.
More About Us
Restaurant Research LLC leverages an extensive network of industry players as part of its annual Concept Benchmark Analysis due diligence process for 22 large US restaurant chains. Also, RR tracks store level data for all major chains with system-wide sales in excess of $1B across all major restaurant segments in order to produce 11 key Industry Data Topic reports.
Disclaimer of Liability: Although the information in this report has been obtained from sources Restaurant Research® LLC believes to be reliable, RR does not guarantee its accuracy. The views expressed herein are subject to change without notice and in no case can be considered as an offer or solicitation with regard to the purchase or sales of any securities. Restaurant Research's analyses and opinions are not a guarantee of the future performance of any company or individual franchisee. RR disclaims all liability for any misstatements or omissions that occur in the publication of this report. In making this report available, no client, advisory, fiduciary or professional relationship is implied or established. This report is intended to provide an overview of the restaurant industry, but cannot be used as a substitute for independent investigations and sound business judgment. Copyright 2013 Restaurant Research® LLC. All rights reserved.