Restaurant Research LLC Report Announcements
Subway continues to do nearly everything right as it steadily leverages gains in scale via impressive growth in both same-store-sales and new unit development. It is exactly this scale which allows Subway to punish smaller competitors with a $5 price point while this $11B chain (domestic system sales) uses top-line growth to fuel ever more advertising coverage to pound home its competitive advantage: healthy, affordable and customizable. Smaller sub chains seeking to stay out of Subway's path must move upscale (i.e. Quizno's) which is a harder place to be in this economy. We expect strengthening unit economics, larger and more sophisticated operators and a new fast casual reimage will only strengthen the concept from here. What could stop Subway? Possibly an economic rebound capable of reversing the trade-down that has helped fuel Subway since the onset of the Great Recession.
Pizza Hut - The largest pizza chain rode the wave during 2H12 fueled by improving industry sales (a stronger economy) accompanied by sharply lower cheese costs after struggling last year with a stagnant top-line aggravated by strong food inflation. An increase in national ad spend, attractive bundle deals and a good wing offering also helped Pizza Hut this year as the brand also takes a swipe at Subway by competing on price with its new P'Zolo sandwich. The system is also poised to grow by leveraging a new, affordable delivery lite format that will replace older, stale dine-in units while also providing PH with the ability to target smaller markets. We hope these positive trends provide sufficient momentum to offset Little Caesar's recent push onto national TV with its $5 carryout price point just as the economy shows signs of slowing.
Restaurant Research's 11th annual New Build Costs analysis provides average building cost estimates (excluding land) broken down by building & site work, equipment & signs, small wares & inventory, soft costs and initial franchise fees for 42 national chains. Data sources include a combination of franchisee survey responses, franchise disclosure documents and public company reports.

Same Store Sales & Economic Database - 41 Concepts: Provides clients with 10 years of same store sales data (annual & quarterly) for 41 $1B+ chains as well as key economic data and correlations (GDP, CPI, disposable income, unemployment and gas prices). This data is useful for benchmarking and sensitivity analysis in financial modeling.
2Q12 comps for $1B+ chains have declined relative to 1Q12's strength. However, +3.5% y/y growth is still respectable despite all the concerns about the start of a new recession. A point well worth noting from the chart below: 2Q12 represents a turning point as the y/y increase for food at home CPI was less than the limited service restaurant CPI increase. This provides consumers with an incentive at the margin to forgo restaurant trips in favor of home cooked meals.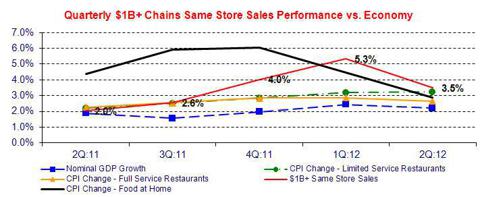 Make Restaurant Research your outsourced research department. Leverage our extensive network and expertise at a fraction of what it would cost for you to do your own due diligence/business intelligence/benchmarking the right way. For more information, please contact us at (203) 938-4703 or pmangieri@ChainRestaurantData.com.
Disclaimer of Liability: Although the information in this report has been obtained from sources Restaurant Research® LLC believes to be reliable, RR does not guarantee its accuracy. The views expressed herein are subject to change without notice and in no case can be considered as an offer or solicitation with regard to the purchase or sales of any securities. Restaurant Research's analyses and opinions are not a guarantee of the future performance of any company or individual franchisee. RR disclaims all liability for any misstatements or omissions that occur in the publication of this report. In making this report available, no client, advisory, fiduciary or professional relationship is implied or established. This report is intended to provide an overview of the restaurant industry, but cannot be used as a substitute for independent investigations and sound business judgment. Copyright 2012.