The long-term topping formation in stocks that we have been monitoring since the beginning of the year finally moved above congestion resistance in the 1,120 to 1,130 zone on the S&P 500 index and is now testing resistance at the January high near 1,150.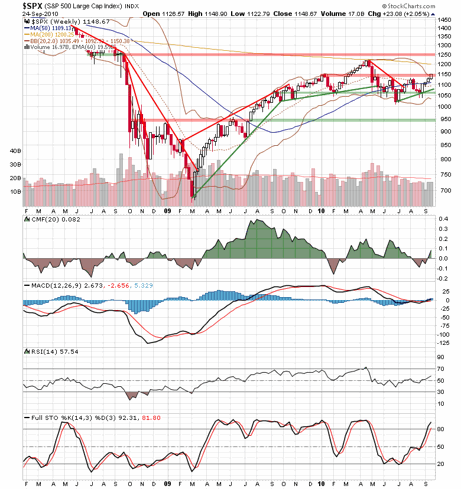 Click to enlarge

The market has experienced a series of sharp corrections and rallies following the long-term high in late April, and this type of price behavior is indicative of a market in turmoil as it struggles to find direction.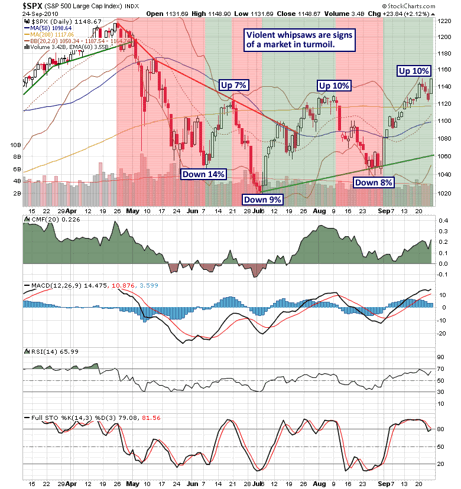 Click to enlarge


Sentiment has tracked these violent whipsaws back and forth as the bullish and bearish camps have been encouraged by each successive move, but, as we often stress, short-term market vacillations only have meaning when analyzed in the proper context afforded by the long-term view.
Although the break above trading range resistance in the 1,130 area has reduced the probability of a long-term breakdown during the next 4 to 6 weeks, the topping formation from late 2009 continues to suggest that a cyclical trend change is underway. The downtrend that began with a prototypical distribution process in April was accompanied by above average volume, while the subsequent reaction from early July has occurred on below average volume.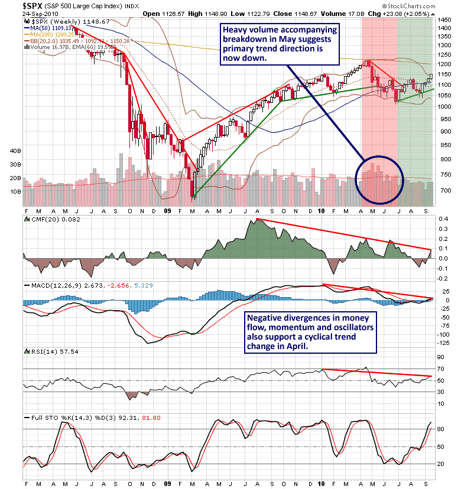 Click to enlarge

Additionally, price action has formed negative divergences with money flow, momentum and oscillators as this long-term formation has developed, indicating that the cyclical uptrend from early 2009 is weakening. If the violent correction in May and June was indeed the beginning of a new primary downtrend, the low volume countertrend rally from early July should end sometime during the next week or two in the 1,150 area.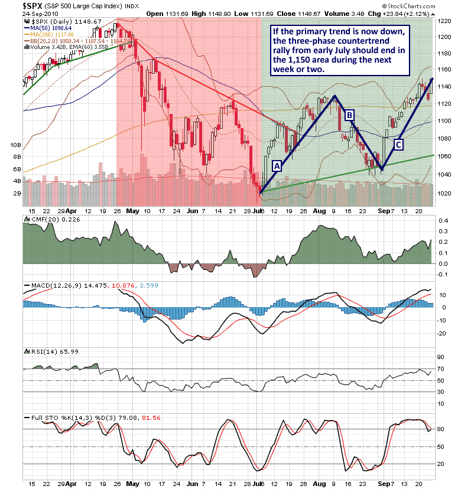 Click to enlarge

Countertrend rallies often take the form of three-phase moves such as this one, but in order to confirm that the uptrend is in fact a countertrend reaction, and not the resumption of the cyclical uptrend, the advance will need to terminate soon. From a temporal perspective, we are now 12 weeks into the current intermediate-term cycle, so time would also be supportive of the development of a sustained downtrend during the next couple of weeks.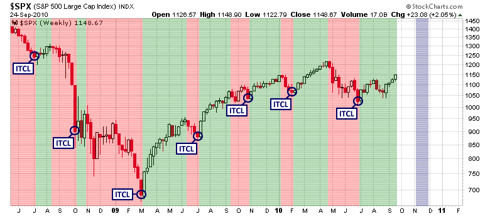 Click to enlarge
As always, there are multiple possible scenarios, so we can never rule out alternatives. If the rally from early July breaks well above congestion resistance in the 1,150 area and closes at another new high on the weekly chart the odds will then favor a return to the April high near 1,215.
We are at another important juncture with respect to the long-term trend in the stock market as it continues to wrestle with the economic outlook heading into 2011. The bulls believe we are still in the early stages of a recovery that will strengthen next year, driving corporate earnings much higher. On the other hand, the bears believe that the economy is likely tipping back toward recession, suggesting that risk assets like stocks are significantly overvalued at current levels. As chartists, we still favor the bearish scenario as the long-term topping formation on the S&P 500 index continues to favor an eventual breakdown to new lows. The deterioration in leading economic indicators that issued recession warnings this past summer should begin to show up in coincident data in October and November, so the debate will likely be resolved one way or another during the next 4 to 8 weeks. Stay tuned.

Disclosure: No positions