Even though I am a long term investor I could not resist profiting from the recent fiscal cliff fears that occurred with rather predictable market movements that was tracking the developments in Washington to the minute.
1) The first phase I could not ignore was the undeniable fear of a Congress in gridlock pushing us down the cliff, causing an economic recession to the already fragile recovery. As the deadline approached and time ran out it was virtually certain that the smart money would sell some of their positions causing the S&P 500 to drop precipitously. Below is a candlestick chart of ProShares UltraShort S&P500 (NYSEARCA:SDS) ETF, that inversely correlates with the S&P 500 (x 2).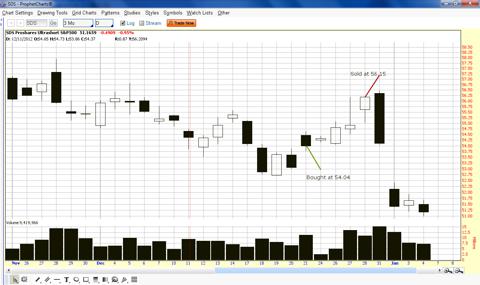 fficult.
As you can see locking in 3.9 % gain in 5 trading days was not so difficult
2) The second phase was a story of relieve. On Dec 31st '12 as the fiscal cliff negotiations came down to the wire, it was announced that President Obama will speak to the nation. The atmosphere has palpably changed to the one of hope.
Since a relieve rally was imminent, what better way to play the market than (NYSEARCA:UPRO) ProShares UltraPro S&P500 that correspond to three times (3x) the daily performance of the S&P 500?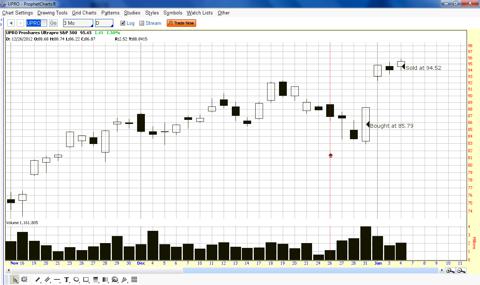 Locking in 10.2% gain in 4 trading days.
In summary I was able to ride the fear as the market dove with SDS and then bet on the relieve rally with UPRO, that resulted in a total of 14.1% profit in a matter of few days.
Not always do obvious market movements present itself , however I am planning to play the impeding debt ceiling crisis the same way. Please subscribe and stay tuned, I will be posting my trade using the same system come end of February/beginning of March'13.
Disclosure: I have no positions in any stocks mentioned, and no plans to initiate any positions within the next 72 hours.