Highlights of the Prior week
For the week of September 2 - September 6
Stock Markets
Most of the major US stock indexes finished higher over the course of the four day trading week that began after Labor Day. Growth stocks experienced larger gains than value stocks, while small-cap stocks performed better than large cap stocks. The week started off well on Tuesday, after the Institute of Supply Manager's PMI index came in higher than expected for August (the new orders component was the biggest surprise) and data showed construction spending increased by 5.2% from the previous year in July. On Wednesday, vehicles sales increased to an annualized pace of 16.1 million cars, marking a new post-financial crisis high. Thursday brought even more good news, as the Institute of Supply Manager's services index showed an even faster rate of growth than Tuesday's manufacturing report and ADP's employment report showed an increase of 176,000 private sector jobs. On Friday, the Labor Department's employment report not only showed that a lower than expected job growth number for August (169,000 jobs), but also lowered its estimates of employment gains for previous months. While the market initially fell on the news, investors shrugged it off later in the day as many hoped that it would prompt the Fed to delay its tapering of asset purchases. Also, a closer look at the report doesn't point to a slowing economy, as certain data points like hourly earnings have been experiencing higher than expected growth. The unemployment rate fell from 7.4% to 7.3% (lowest level since late 2008) but largely because discouraged workers were leaving the labor force.
Bond Markets
In the bond markets, prices for US Treasuries declined, while the 10-year note hit a yield of over 3% at one point in overnight trading. One the best performing fixed income sectors for the week was the bank loan segment. In recent months, funds investing in bank loans have attracted large inflows of assets in large part because bank loans have floating rates that reduce interest rate sensitivity. The US high yield bond market also performed well, even as Treasury prices declined. Most emerging market debt fell in value over the course of the week as worries over a US attack on Syria scared investors away from the sector. Finally, the week saw a lot of activity in investment corporate debt issuance ($18 billion by Wednesday morning) because of several large merger and acquisition deals that have taken place recently.
(click to enlarge)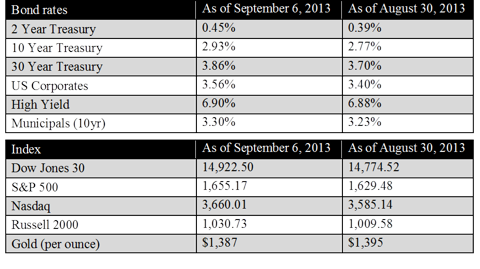 Click to enlarge
Sources:
*Indexes are from Reuters and Yahoo! Finance 4pm closing data
*Gold prices are from EcoWin and J.P. Morgan Asset Management
*Treasury rates are from Bloomberg.com
*Municipal and high yield rates are from Barclays Capital
Past performance is not indicative of future results.
Disclosure: I have no positions in any stocks mentioned, and no plans to initiate any positions within the next 72 hours.
Additional disclosure: This document should not be considered investment advice and the information contain within should not be relied upon in assessing whether or not to invest in any products mentioned. This document has been prepared without regard to the individual financial circumstances and objective of persons who received it. The securities discussed in this document may not be suitable for all investors. This material was compiled by AdvisorShares based on publically available data. AdvisorShares makes no warranties or representation of any kind relating to the accuracy, completeness or timeliness of the data and shall not have liability for any damages of any kind relating to such data. AdvisorShares® is a registered trademark of AdvisorShares Investments, LLC. The trademarks and service marks contained herein are the property of their respective owners. To learn more about the risks with actively managed ETFs visit our website AdvisorShares.com.