Last week, total AUM in all active ETFs fell by almost $40.9 million. Assets in the two largest categories "Short Term Bond" and "Global Bond" fell by $7.74 million and $10.156 respectively. In addition, the "Foreign Bond" category decreased by $36.33 million, while AUM in "Currency" active ETFs fell by almost $5.2 million. This week, the largest increase in AUM came in the "High Yield" ETF category, which rose by almost $10.275 million, mainly due to creation units. The "Alternative" category came in second, with an increase of nearly $6.75 million. While some funds in the "Alternative Income" category had creations and others experienced redemptions, overall AUM rose by $1.2 million. Finally, the small "Mult-Asset" category fell by over $1.7 million, down to $115,489,249.
To subscribe to our full monthly report, please register at www.advisorshares.com (note the full report is only available to financial professionals).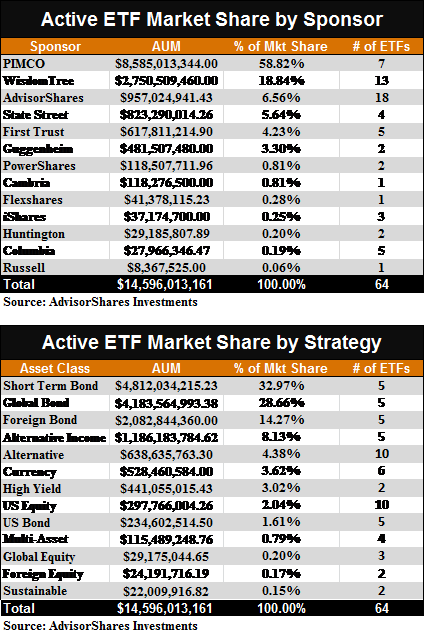 There are risks involved with investing in ETFs including possible loss of money. Shares are actively managed and are subject to risk similar to stocks, including those related to short selling and margin maintenance. Ordinary brokerage commissions apply.
Shares are not individually redeemable and owners of the shares may acquire those shares from the Funds and tender those shares for redemption to the Funds in Creation Unit aggregations only, typically consisting of 50,000 shares.
Disclosure: I have no positions in any stocks mentioned, and no plans to initiate any positions within the next 72 hours.
Additional disclosure: The article has been written by AdvisorShares, Research Analyst. We are not receiving compensation for this article, and have no business relationship with any company whose stock is mentioned in this article. To the extent that this content includes references to securities, those references do not constitute an offer or solicitation to buy, sell or hold such security. AdvisorShares is a sponsor of actively managed exchange-traded funds (ETFs) and holds positions in all of its ETFs. This document should not be considered investment advice and the information contain within should not be relied upon in assessing whether or not to invest in any products mentioned.Investment in securities carries a high degree of risk which may result in investors losing all of their invested capital. Please keep in mind that a company's past financial performance, including the performance of its share price, does not guarantee future results. To learn more about the risks with actively managed ETFs visit our website AdvisorShares.com.