Not a lot of changes occurred this week in the active ETF space. Assets increased by roughly $40 million. The big news for the week was the launch of a tactical commodity strategy by First Trust. This continues a growing theme for active ETFs, which is that demand will come from one of two main areas. The first is a better structure for existing popular strategies, such as the PIMCO Total Return ETF. The second is from strategies that are different or alternative in nature, such as First Trust's newest launch.
Currently, it's clear there isn't as much demand for traditional strategies such as large cap growth or sector, but as managers offer those strategies in an active ETF and build a track record, investors will start to make a change. Keep an eye out for active ETFs achieving their 3-year Morningstar rankings. There are several active ETFs over the next 12 months that will see more interest as investors begin to understand not only the structural benefits of active ETFs, but also the performance benefits of active ETFs. As noted here in the past, it takes time for investors to get comfortable with the managers, strategies, and ultimately the risk adjusted returns that active ETFs can provide.
To subscribe to our full monthly report, please register at www.advisorshares.com (note the full report is only available to financial professionals).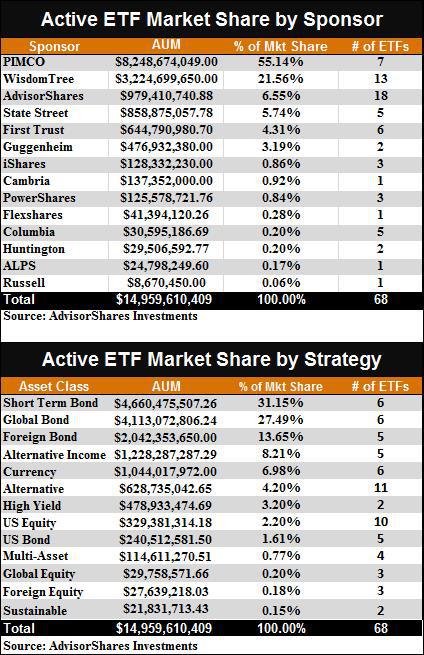 There are risks involved with investing in ETFs including possible loss of money. Shares are actively managed and are subject to risk similar to stocks, including those related to short selling and margin maintenance. Ordinary brokerage commissions apply.
Shares are not individually redeemable and owners of the shares may acquire those shares from the Funds and tender those shares for redemption to the Funds in Creation Unit aggregations only, typically consisting of 50,000 shares.
This document should not be considered investment advice and the information contain within should not be relied upon in assessing whether or not to invest in any securities mentioned. This document has been prepared without regard to the individual financial circumstances and objective of persons who received it. The securities discussed in this document may not be suitable for all investors.
This material was compiled by AdvisorShares based on publically available data. AdvisorShares makes no warranties or representation of any kind relating to the accuracy, completeness or timeliness of the data and shall not have liability for any damages of any kind relating to such data.
This material represents an assessment of the market environment at a specific point in time and is not intended to be a forecast of future events, or a guarantee of future results.
AdvisorShares® is a registered trademark of AdvisorShares Investment, LLC. The trademarks and service marks contained herein are the property of their respective owners.