Highlights of the Prior Week
Holidays-itis?
In the week ended December 13, the major US stock indexes fell for the second consecutive week, after rising each of the previous eight weeks. Despite a near two percent pullback last week, indexes are still up around five percent since October, and the S&P 500 is up over forty percent since the end of 2011. With the hectic holiday schedules nearing, it is difficult to predict what we will see this month. Historically though, the Santa Claus Rally and January Effect bolster the markets this time of year.
Improved economic conditions may have led investors to believe that the Fed may begin tapering asset purchases sooner than expected, as the only market we follow that was in the black was the Barclays Aggregate. It appears, then, that investors' most noticeable purchasing decision was based on great performance over the past year. Four and a half billion dollars was invested in the SPDR S&P 500 ETF, SPY, and another 380 million were invested in the market via the Vanguard S&P 500 fund, VOO. Consumer Staples took in a half of a billion dollars as well through XLP SPDR.
iShares Core Total US Bond Market ETF AGG received over $405 million in capital inflows, the third highest amount in ETFs for the week. However, investors may not feel too optimistic about impeding growth, as the iShares TIPS Bond ETF, TIP, lost $130 million.
Prior to this week's uncertainty surrounding the Fed, Emerging markets dollar-pay debt spreads were tighter last week at 324 basis points over US Treasuries, meaning global investors do not view potential risk to be terribly frightening. Accordingly, the Vanguard Europe ETF, and the iShares MSCI Eurozone, Japan, and emerging markets ETFs all saw significant inflows. Again though, one would imagine this to slow with the tapering unknowns.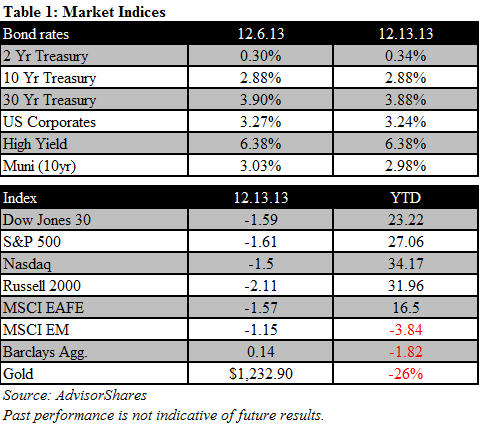 Weekly ETF Flows
For December 9, 2013 to December 13, 2013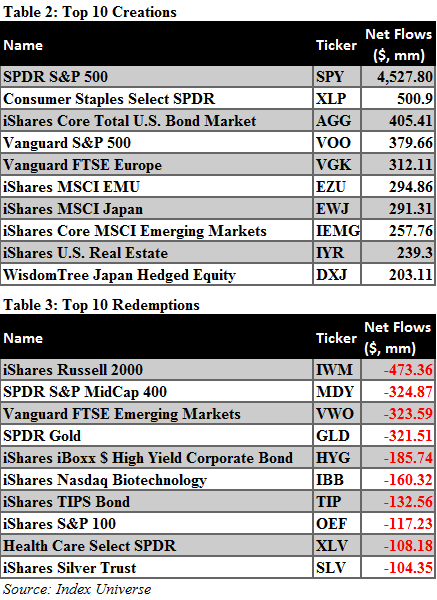 S&P Sector Analysis
As for the sectors of the S&P 500, five outperformed the broad benchmark - Materials, Discretionary, Industrials, Financials, and Energy. The other half - Technology, Staples, Utilities, Telecom, and Healthcare - all underperformed. The dispersion between the top performing and bottom performing sectors shrunk to 1.89% this week, with Materials outperforming all, and Healthcare coming in last.
For December 9, 2013 to December 13, 2013
Sector performances, as measured by the S&P 500 sector indices were: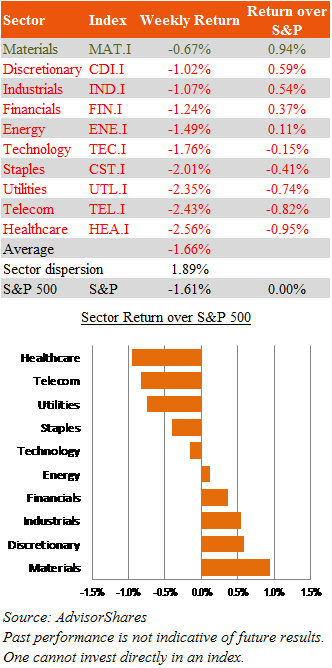 This document should not be considered investment advice and the information contain within should not be relied upon in assessing whether or not to invest in any products mentioned. This document has been prepared without regard to the individual financial circumstances and objectives of persons who received it. The securities discussed in this document may not be suitable for all investors.
This material was compiled by AdvisorShares based on publically available data. AdvisorShares makes no warranties or representation of any kind relating to the accuracy, completeness or timeliness of the data and shall not have liability for any damages of any kind relating to such data.
The indices included herein are unmanaged indices and one cannot directly invest in an index. Index returns do not reflect the impact of any management fees, transaction costs or expenses. The index information included herein is for illustrative purposes only.
AdvisorShares® is a registered trademark of AdvisorShares Investments, LLC. The trademarks and service marks contained herein are the property of their respective owners.
Disclosure: I have no positions in any stocks mentioned, and no plans to initiate any positions within the next 72 hours.