Profile and ownership structure
Burelle SA is a French family holding company with three subsidiaries:
Plastic Omnium (Ownership: 56 %)
Burelle Participations (Ownership: 100 %)
Sofiparc (Ownership: 100 %)
Burelle family owns 77,85 % of outstanding shares. Surprisingly there is also one fund that holds 4,29 % of shares.
Summary of subsidiaries:
Plastic Omnium (POM.PA) is an industrial group active with two large divisions: Automotive division (90% of sales in 2012) and Environment division (10% of sales in 2012). The automotive division is active in fabricating structural body parts for cars (such as bumpers) and fuel systems. The environment division sells products and services for waste management and urban installations. At first sight this company lacks sexiness, but it contains all ingredients for superior investment quality. You can find the ticker here. In summary:
World leader in most of their activities
Technological innovation (R&D costs are 5% of sales)
Playing the green card: strong focus on CO2 reduction
Clean balance sheet (low debt position)
Balanced client portfolio in automotive division
Strong record of FCF generation (three years in a row)
High exposure to emerging markets
Company's automotive sales growth outperformed worldwide growth (16,7 % vs. 6,6 %)
Self financed growth
High return on equity (22%) supporting growth
Management with a long history in the industry
Company with a clean track record of profit making (2008: only year with reported losses over an existence of more than 60 years)
Family held business (Burelle family)
Sofiparc (private) is a real estate company. It owns land in Lyon and Saint-Priest and is leased to several respectable companies (such as McDonalds, Novotel and Ibis). Secondly it owns a large office building in the region of Paris that is mainly rented to Plastic Omnium.
Burelle participations (private) invests in French companies trough equity funding, mezzanine funding and investment funds. Its goal is to generate returns in a mid-term investment horizon and to spread risk trough a large spectrum of businesses and sectors.
Weight of subsidiaries
Burelle SA can be approximated as an unlevered mono holding of Plastic Omnium. The other two subsidiaries have a relatively small weight in the portfolio. Burelle SA has a little more financial dept on its balance sheet then Plastic Omnium. This additional debt is related to its real estate activities (Sofiparc).
Valuation:
Purchasing Burelle SA stocks is purchasing Plastic Omnium stock with a considerable discount. A brief summary (based on financial report 2011 and Bloomberg) is displayed below. It can be concluded Burelle SA is cheaper on every valuation ratio. Plastic Omnium itself isn't expensive either.
| | | |
| --- | --- | --- |
|   | Plastic Omnium | Burelle SA |
| Current stock price (25/01/13) | 28.38 € | 235.00 € |
| Price / Earnings | 7,69 | 3,69 |
| Enterprise value / EBITDA | 6,93 | 5,70 |
| Price / book | 1,88 | 0,87 |
| Enterprise value (M €) | 2052,59 | 1683,88 |
| EBITDA (M €) | 296,40 | 295,43 |
Intrinsic value of Burelle SA can be approximatly calculated as follows:
Intrinsic Value = 15,63 * Stock price of Plastic omnium
For every share of Burelle SA there are 15,63 shares of Plastic Omnium present in the holding. Approximation: Burelle SA is an unlevered mono holding of Plastic Omnium. Calculation above thus neglects the value of the two other subsidiaries. At current stock price of Plastic Omnium one share of Burelle has an intrinsic value of 443,47 €. This comes down to a discount of 47 %.
Discount relative to Plastic Omnium is at its 3 years high
One reason to believe Burelle SA share will outperform Plastic Omnium is the incredible discount in respect to its intrinsic value. I calculated discount by using the above formula and adjusting for variation in the number of Plastic Omnium stocks held:
As you can see discount has been trending up since the bottom of 2009. Discount has been growing because Plastic Omnium 's share price rose much faster than Burelle SA's share price: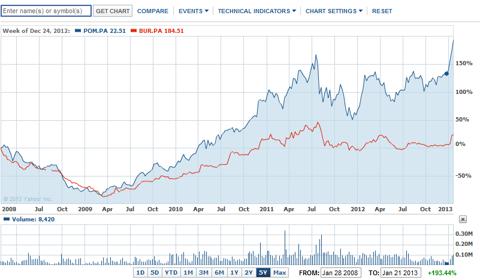 Why discount is peaking now
In my perspective there are several possible reasons why Burelle SA is discounted relative to Plastic Omnium:
Holdings are always traded with a discount because of additional operational costs of a holding
All communication is in French, making it inaccessible for foreign investors
Slow down in West European car market puts psychological pressure on this stock
A seemingly random portfolio of businesses making it a less transparent investment
Burelle family seemingly doesn't care about stock price
Average trading volumes are low due to lack in free float
High nominal stock price
Low dividend yield
There is an obvious reason why discount is growing. That reason is the psychological effect on French investors: Western European car sales are slowing down. French population sees its home land car manufacturers (Renault and Peugot SA) swim in difficult water. This results in slicing down the number of jobs in France and social agitations. Production moving away is a common Western European trend, cfr. Belgium and Germany. All this leads to a bearish sentiment of French investors on anything related to cars. And as stated above, all communication is in French. If not for French investors, who is left to buy Burelle SA?
Well hidden synergies between subsidiaries
Sofiparc rents office space to Plastic Omnium, providing a stable income for Sofiparc.
Sofiparc's stable income is sufficient to fully cover operational costs of the holding.
Placing real estate in separate entities increases tax deductibility: restoration costs are not deductible unless real estate and enterprise are brought in separate entities.
Plastic Omnium and Burelle SA split management expenses
What could fire up stock price
There are some hypothetical scenario's that could trigger a price increase. There is no reason to suspect the company will make such a move in the near future.
Free float increases: CEO has sold a large chunk of shares in past twelve months. He could sell more as he's getting closer to retirement.
Company does a stock split, causing liquidity to increase
Burelle SA gets an upgrade to a larger equity market
Communication to shareholders continues in English
Burelle SA uses cash from dividends to buy its remaining shares off the market
Conclusion
A European growth stock with a p/e lower than 4 is quite unique. I've seen fraudulent Chinese micro-caps trade at less attractive multiples at this time. The company has an excellent outlook for the next four years and an outstanding history of profitability. Stock is priced brutally cheap as market clearly fails to valuate this stock properly. The purpose of being listed remains a great mystery to me. A once in a life time for investors seeking value.
Disclosure: I have no positions in any stocks mentioned, and no plans to initiate any positions within the next 72 hours. I wrote this article myself, and it expresses my own opinions. I am not receiving compensation for it (other than from Seeking Alpha). I have no business relationship with any company whose stock is mentioned in this article.