S&P has been trading sharply lower last week but now showing some evidences of a low around 1625 area which is fine because we already have five needed sub-waves down in wave (NYSE:A). We know that after every five wave move correction is expected, so recovery or sideways price action in this week should not be a surprise. We are talking about blue wave (NYSE:B) that could already be underway and may even reach 1667 area before the Friday's US NFP. After wave (B) pull-back we will be looking for a strong sell-off in wave (NYSE:C), into a third leg of decline.
S&P 500 4h Elliott Wave Analysis
(click to enlarge)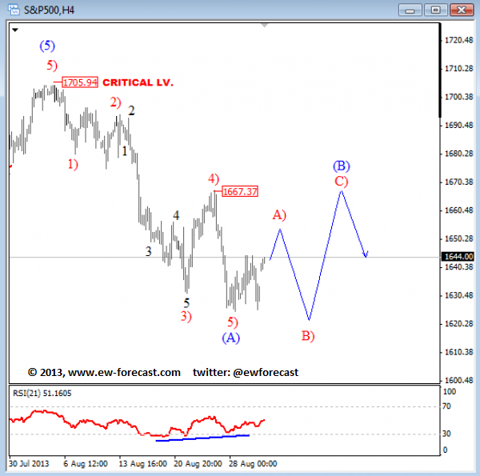 Click to enlarge
The important thing that we need to understand now is a five wave of decline from 1705, which means that bearish reversal on stocks is confirmed and that prices will stay in bearish mode for few more weeks, and that any bounce will be temporary and limited with 1705.
Written by www.ew-forecast.com | Try EW-Forecast.com's services fre for 7 Days