Have you ever followed an investment recommendations you picked online?
Every day Thousands of recommendations are posted on financial websites.. the "experts" vary from "professional analysts" to laymen investors who tweet their opinion.
I want to focus on a professional analyst and examine some of his recommendations we detected in the last 4 years. See how well they really performed and where would you all be have you followed him since.
Analyst is Andy Hargreaves from Pacific Crest:
Andy joined Pacific Crest Securities software team in 2003 and is currently covering Apple, Netflix and Coinstar.
Quick TipRanks Facts (29-Jan-2013):
TipRanks detected 25 public recommendations given by Andy since January 2009.
15 of Andy's recommendations outperformed the sector giving him a 60% success rate.
Andy's recommendations provided an excess return of +14.1% (average per recommendation when compared to S&P-500)
74% of Andy's recommendations are Outperform / Buy (Analyst average: 55%)
Andy is ranked #111 out of 1736 ranked analysts (top 7%)
(click to enlarge)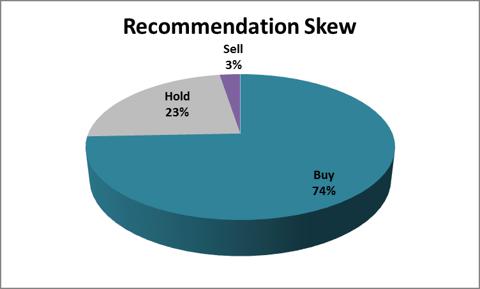 Click to enlarge
When evaluating Andy's stock coverage we can see his recommendations on Netflix provided the best return in relation to S&P-500 while his rating on Coinstar resulted in negative returns (in relation to S&P-500).
(click to enlarge)

Click to enlarge
Andy's Profile as can be seen in the TipRanks Extension
(click to enlarge)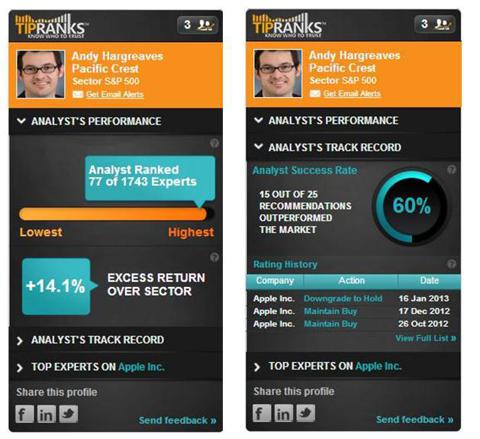 Click to enlarge
Conclusion:
achieving a 60% success rate while enjoying an average return of over 14% per recommendation is definitely someone you want to listen to.
These statistics are "rare" among sell side analysts which are usually below the 50%.
However, since most his recommendations (At least those posted online) cover only Apple, Netflix and Coinstar the Beta his portfolio carries is not something one should underestimate - lucky for him he downgraded Apple on time!