Synageva BioPharma Corp (NASDAQ:GEVA), a leading bio-pharmaceutical company in the rare disease market, received a U.S. patent covering methods of treating lysosomal acid lipase deficiency (LAL Deficiency). The strategic patent is part of the company's planned global patent portfolio covering LAL Deficiency, giving them the upper-hand in the industry. The company also just released Q4 reports which revealed a net loss of $30.7 million, or $1.00 per share, even greater losses compared to the same quarter last year. However, despite the loss, top analysts are recommending BUY GEVA, looking towards the company's future.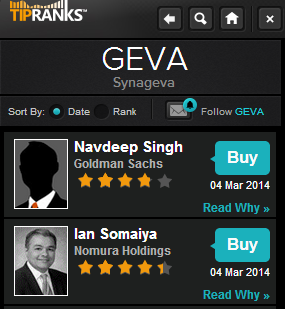 Goldman Sachs analyst Navdeep Singh recommended BUY GEVA and raised his price target from $112 to $125. Navdeep argued, "The greater-than-expected net loss is due to increased long-term investment to build out its global infrastructure." Navdeep has a 3.6% average return over S&P-500.
Navdeep has recommended Syngeva in the past, including a recommendation to BUY GEVA in January of this year. Navdeep noted, "We are focused on the phase 2/3 data of sebelipase in LAL-D infants that will be presented at WORLD on February 13. The data showed that sebelipase prolongs life in LAL-D infants well beyond the average lifespan of 3.9 months. Sebelipase is tolerable in the context of its survival benefit. This is a positive for Synageva." Navdeep has already earned +10.8% over S&P-500 with this recommendation.
Navdeep also recommended BUY GEVA at the end of 2013, earning one of his highest returns. Navdeep initiated coverage of GEVA saying, "Synageva develops drugs for rare diseases, which have (1) lower regulatory hurdle, (2) significant pricing power and (3) attractive profit margins. Synageva's lead candidate is sebelipase, an enzyme replacement therapy (NASDAQ:ERT) in a phase 3 trial for LAL deficiency. Based on positive phase 2 data, we believe phase 3 data in H2:14 will be positive. This would unlock a $1+bn market opportunity." Navdeep earned +68.8% over S&P-500.
Analyst Ian Somaiya of Nomura Holdings also recommended BUY GEVA and raised his price target as well, from $112 to $144. Ian found that, "Recent sell-off in GEVA shares combined with significantly higher spending guidance provides investors with a better buying opportunity." Ian added that "SBC-103 represents a promising treatment for MPS IIIB, benefitting from a favorable method of administration (IV) and first-mover commercial advantage versus BioMarin's BMN-250." Ian has a 5.0% average return over S&P-500.
Synageva might have experienced some hard losses recently, but with another patent in the books, and promising drug trials, analysts are eager to get their hands on GEVA. Will you be adding GEVA to your portfolio?