Based on data from this February, the U.S. Department of Commerce (DoC) reported that U.S. Steel (NYSE:X) imports showed "a slight decrease from Jan. (-2.0%), but a robust +27% YOY." And while Nomura Holdings analyst Curt Woodworth is encouraged by this information, recommending BUY X, Axiom Capital analyst Gordon Johnson has interpreted this information as a SELL X recommendation.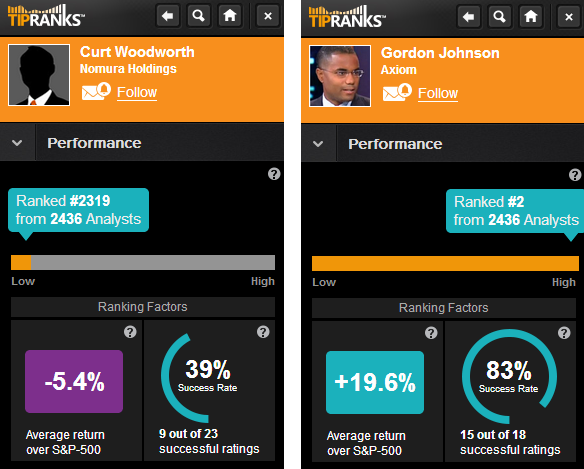 Curt upgraded U.S. Steel to BUY and increased his price target from $27 to $32. Curt noted that, "after the stock's 18% correction since January (vs. S&P500 +2%), we see many reasons to own X." After Curt met with both the CEO and CFO of the company he said, "we have increased conviction in the company's direction as well as the opportunity sets in the commercial, financial, and operating functions of the business." Curt was most excited to predict that he sees, "US Steel's cash flow significantly increasing in the coming years." Curt is ranked 2319 out of 2436 analysts and has a -5.4% average return over S&P-500 and a 39% success rate of recommended stocks.
Curt also recommended BUY X with a price target of $40 back in 2012. Curt argued, "U.S. Steel is starting to see the unit cost benefits from much better volume levels and cost benefits from increased natural gas usage and lower coke usage rates, eliminating the need to buy expensive merchant coke." At the time he felt that U.S. Steel was undervalued, however Curt ended up losing -33.3% over S&P-500.
On the opposite spectrum, analyst Gordon Johnson was not as convinced by US Steel's numbers, recommending SELL X. Gordon believes that "U.S. hot-rolled-coil (NYSE:HRC) prices are likely in the midst of a sharp, structural, correction lower," especially because of the "the current - and persistent - premium of U.S. HRC spot vs. international HRC spot steel prices (>$100/mt)." Gordon thinks that this implies "growing risk to steel group fundamentals."
Gordon also noted, "imports will continue rising, for both long & flat products." And, "imports typically rise when U.S. steel prices, measured as a spread to international prices, trade>$100/mt>." "With suggestions of further increases in steel imports, we deem a potentially significant price correction - on the magnitude of ~$50/mt - is on the horizon." Gordon is ranked number 2 out of 2436 analysts with a 19.6% average return and an 83% success rate of recommended stocks.
Who do you trust to help you make your next financial decision about U.S. Steel?