Hello Traders,
As I promised I want to make my case on the Swedish Krona. This is a pair that is not often traded, however, must be considered when talking about strong currency Euro pairs over these last two years. The Swedish Krona (SEK) has done exceptionally well topping 10% growth against the EURO. Well, why all the fuss about a Country the size of Ca? In this brief article I will discuss why I think this currency will see at least a 10% correction based on fundamentals over the next 3-6 months.
This Forex Fundamental Analysis Summary Report will cover the Month of Jan 2013.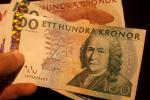 Country: Sweden
Currency Symbol: SEK
Current Position: Short SEK
I would like to share with you a Forex trading currency that many of you probably have never traded. This currency not only has a very wide spread but often moves very slow and can't be traded for scalps. The Currency is the Swedish Krona, symbol is SEK.
Ok let's touch on some fundamentals. This Country is a little larger than California and has a population of less than 10 million.
Here are some basic stats from Sweden in 2011.
Economy in 2011
GDP (2011, nominal): $458 billion.
GDP (2011, per capita purchasing power parity): $38,000.
Annual GDP growth rate (2011 estimate): 4.5%.
Now let's jump to their estimates for 2013, they have just cut their GDP to and expected 1.1%…… this is a HUGE drop!!!
While Traders were on Vacation an announcement came that I think is important:
On Friday 12/21/2012 Sweden announced it slashed it's 2013 growth forecast
1.) Finance Minister Anders Borg said "The recovery is going to be late and fragile. The labor market can be described as weak and soft in the coming years,"
2.) The government also revised its unemployment forecast for 2013, expecting Sweden's jobless rate to rise to 8.2 percent, compared with the previous forecast of 7.5 percent.
3.) Unemployment is expected to edge up to 8.3 percent in 2014 before dropping back to 7.4 percent in 2015.
4.) Borg stated that Sweden would likely run a budget deficit for three years in a row from 2012 through 2014.
5.) Borg said "We can expect a weak 2013."
Borg admitted it would be hard to predict exactly how bad things would get, hinting the government may implement measures to prop up growth next year and ahead in 2014 and 2015. The question is, will this include a round of QE? Why not? Everyone seems to be doing it , right?
So How do We Trade The Forex Fundamental Analysis ?
Well I have a few trades to capitalize on the possibility that this fall of the Krona will take place. If you are interested in reading more you can become a member of our Forex Trading Room and see the exact stop and target levels. Join our Twitter
Regards,
BT (Gerard Mastra)
Chief Currency Trader
www.Fxlivedaytrading.com