The winds of change are blowing as the market quietly adopts a new format which I believe will revolutionize the mutual fund and hedge fund industry. What are the catalysts for change and how will it impact the average investor?
Before I discuss how I think the industry will change, take a minute to consider what hedge funds are and what they are not.
Hedge Fund Definition
Because of the word 'hedge' you might wrongfully assume that these funds are low-risk investment vehicles protecting against market downsides. Actually, this is a woefully inaccurate term carried over from a simpler time. If hedging against a market downfall was all you were interested in, there are simple ways to do so.
Consider this hedged portfolio with four ETFs in equal-weights:
Below are three charts showing how this hedged portfolio lowers volatility...at the expense of total return. The first chart is simply the two equity ETFs, the second adds gold and the third has the hedged short position. Some might add in bonds and construct a Permanent Portfolio. (index values are used when theoretical back-testing precedes fund inception date such as with SH).
(click to enlarge)

Click to enlarge
(click to enlarge)

Click to enlarge
(click to enlarge)

Click to enlarge
Equity Only Portfolio: 8.74% return with max loss of 55% in bear market crash
Equity Plus Gold Portfolio: 12.5% return with max loss of 34%
Hedged Portfolio: 7.23% return with max loss of 14% in bear market crash
You also need to add in management fees which range from a typical 0.2% all the way up to 0.9% for the inverse fund which will lower the annual growth rate slightly.
If all you really wanted was a hedged portfolio with diverse asset classes, this is not difficult to achieve and you do not need to invest in hedge funds to do so. But what are hedge funds and do they deliver on the promise of the superior performance numbers?
Hedge Fund Performance
Hedge funds today run a myriad of complex strategies using extreme leverage, unregulated derivatives, and complex quantitative strategies including high frequency trading algorithms. Below is a slew of the strategy classifications. As you can see, hedge fund strategies is a catch-all phrase for pretty much anything you can think of.
(click to enlarge)

Click to enlarge
Mutual funds are typically long in the underlying assets with the majority of funds invested at all times and are typically compared to a similar benchmark. Hedge funds try to deliver consistent and strong returns regardless of market conditions and are usually not compared to benchmarks. Slow and steady should deliver superior returns over time and volatile market conditions.
Just how well do hedge funds perform on average? Below is a very short-term chart comparing the S&P 500 ETF (NYSEARCA:SPY) to various IQ Hedge Tracking Indices and you may also want to look at the IQ Hedge Multi-Strategy Tracker ETF (NYSEARCA:QAI) and the IQ Hedge Macro Strategy Tracker ETF (NYSEARCA:MCRO). Granted, these are ETF hedge replication funds that mimic hedge funds. Regardless, the recent 2 year performance makes me shudder.

(click to enlarge) (dark blue on top is S&P 500 ETF)

Click to enlarge
But surely this is unfair. If I used some longer-term statistics dating back to 1993 I am sure we would see the superior performance of many hedge funds. (On the flip side, you might be interested in Michael McMillan's blog discussing the book, The Hedge Fund Mirage by Simon Lack, as to how these earlier years are inflated with smaller hedge funds which correlate to larger returns.)
While the reported numbers I found looked good, there was no mention of such things as asset management, performance and referral fees. I took their high-flying numbers and applied a 5% referral fee, a 20% performance fee using the high-water mark (performance fees only given above a previous high) and 2% asset management fees. I couldn't find anywhere on the hedge fund site as to what the actual fees were but the numbers I use are fairly typical from what I understand. Look below for the comparison of reported hedge fund returns, the S&P 500 returns, and what I assume the actual hedge fund returns would be for the investor based on assumed fees.
(click to enlarge)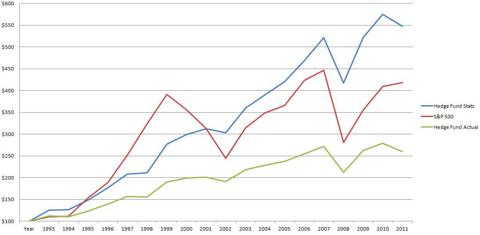 Click to enlarge
Clearly, the steep price you pay for hedge fund performance consumes any perceived gain. Keep in mind that the data we have access to are only the reporting hedge funds which may not include many under-performing funds. The reported data could also have survivorship bias with blow-up funds not listed.
Barclayhedge has a list of New York Hedge Funds with an active database of 5002 funds. Here are a few numbers to consider:
| | | |
| --- | --- | --- |
| Currently Active |   | 5002 |
| Funds with positive Rate of Return |   | 2172 |
| Average Positive ROR |   | 1.62% |
| Funds with negative ROR |   | 741 |
| Average Negative ROR |   | -1.55% |
| Average ROR |   | 0.82% |
| Highest ROR |   | 24.30% |
| Median ROR |   | 0.65% |
| Lowest ROR |   | -43.58% |
So if you only invested in one fund, chances are that you would fall into the majority of funds that didn't make money over the last year despite the S&P 500 total return index being up 24%. If you bought a fund of funds or invested in many funds at once, you may have grossed a little less than 1% before your asset management and performance fees.
It doesn't take a statistician to see why the hedge fund industry might need to undergo an overhaul. Lack of transparency, exorbitant fees, lackluster returns, lack of internal regulation yet strict requirements for investors wanting to purchase are the ingredients needed for the recipe of change.
Why We Need Game Changers
If hedge funds are good investments, then why are they only available to the rich? Does wealth necessarily make someone well informed on complex investment strategies? Or is it because these products carry higher risk than other investments? If only accredited investors can buy hedge funds because of higher risk, then should we also block the average investor from penny stocks, stock options, online trading, direct market access and a FOREX trading? If investing with professionals is too risky, we shouldn't let them play with the power-tools unsupervised...should we?
Next, we need far more transparency. Instead of managers putting the capital in Schrödinger's enigmatic black box, investors deserve to know how their money is being invested in clear and simple terms.
Third, there needs to be more control and oversight by the investor. The investor should have more say as to how funds are invested and have the 'power of veto'...at least with his portion of the funds capital.
Fourth, hedge fund fees need to come down out of the stratosphere with the wealth distributed more fairly between firm and investor.
How The Hedge Fund Shift May Progress
The pieces are already in play and I foresee it as being only a few years away before the mutual fund and hedge fund industry sees a democratization of the Wall Street monarchy. What elements are already in play? What is needed for the next sweeping wave of change?
1. We need smart people to develop investment strategy. The basis for any fund should begin with a clever and well thought out strategy but it does not include upholding the status quo by attending a certain business school or having a degree. The only thing that matters is an investment strategy that works. These can be people of any social class and background living anywhere in the world that have the mind for strategy. These people already exist.
2. Fundamental strategy building/testing software platforms. These are becoming increasingly common and low cost to the average investor. I hope they continue to do so and are made available to virtually anyone who wants to build and test their fundamental idea. This technology exists but needs to keep growing. These should be as common as stock screeners on the Internet.
3. Brokerage firms that charge cheap flat monthly rates regardless of trading and rebalance frequency which can also automate much of the process for trading massive portfolios of stocks and ETFs. Multiple pre-formatted strategy models can be followed by anyone and hundreds of stocks can be re-balanced with the click of a mouse. Any holding can be removed or added before re-balancing. These brokerages with these features already exist.
4. A group of quantitative statisticians working as a middleman between strategy builders and the public to rigorously test these strategic models for robustness and soundness. These people already exist.
What Portfolio Cafe Is Doing Right Now
The problem is that there is simply too much profit for hedge fund managers and until investors collectively fight back, there is little incentive than to keep dishing out more of the same substandard performance for ridiculous fees. At Portfolio Cafe we are making the first steps to fight back. This is what we are doing right now and will soon do and how it compares to a hedge fund. Consider if you invested $100,000 with our 'self-directed' hedge funds vs. traditional ones.
Portfolio Cafe: You can buy all of our sophisticated quantitative strategies for ETF funds and stocks for $399 per year. This is the single most important aspect of investing - the strategy, brains and driving force. Next, we have partnered with a brokerage called Foliofn that costs $290 for a year or unlimited 'hedge fund' trading and re-balancing.
On $100,000 invested this is an annual cost of 0.7% for all the strategy, recommendations and trading. (this doesn't consider taxes or management fees of ETFs)
Total control to pick and choose which portfolio strategy(or strategies) you want to use - no more managers hiding in the back room dictating where your money goes. Power to add or remove any holding from the recommended fund.
Statistically proven models based on academic research which are clearly explained to you. 10o% transparency of methods and stocks recommended before you invest.
But what about draw-down and gain? To sum up here is one last chart for you to look at. I took 5 of the actual strategies we have at Portfolio Cafe (3 are released and 2 are soon to be) and combined them for an equal-weighting strategy. This is very simple to do through your Foliofn brokerage and especially so when we are finished blending all our strategies together into one giant fund (coming soon). I compared this against one of the good-looking and previously top-performing traditional hedge funds (could only find annual data unfortunately). Below is the comparison of your money with a traditional hedge fund and their ridiculous fees and lackluster performance versus the investment vehicle we are building low-cost for investors today.
(click to enlarge)

Click to enlarge