Greek regulators recently extended the ban on short selling Greek equities until August 31, 2010. The ban was implemented on April 28, 2010 and was supposed to expire on June 28. This is the second time in the past few years that short selling has been banned in Greece. Short selling was also banned from October 2008 through June 2009. 
Many people, most notably Christopher Cox, former chairman of the SEC, are already familiar with the inefficacy of short selling bans, namely that they do not stop share price slides or even volatility but do reduce liquidity and increase trading costs for all investors.  What is less well known is how the ban works its way through the capital markets. Since short interest is not publicly reported for Greek equities, the next best thing is to look at the number of shares of Greek stocks borrowed in the securities lending market. SunGard Astec Analytics collects this data from hundreds of institutional investors and broker dealers on a daily basis.
In the chart below, the number of Greek shares borrowed and shorted is juxtaposed against the value of the Athens stock exchange index. The ban in 2008 effectively reduced the number of shares borrowed and shorted, but did nothing to stop the fall in share price. The Greek stock market lost an additional 46% from October 2008 through to its low in February 2009. The stock market rebounded in March 2009 while short selling was still banned, but shares continued to climb after short sellers were let back into the market in June 2009.
The second ban on short selling in April of this year also helped to reduce the number of shares borrowed and shorted, from a high of 46 million down to 15 million currently. However, similar to the first time the ban was implemented, this ban doesn't look like it will necessarily stop the slide in the Greek equity market.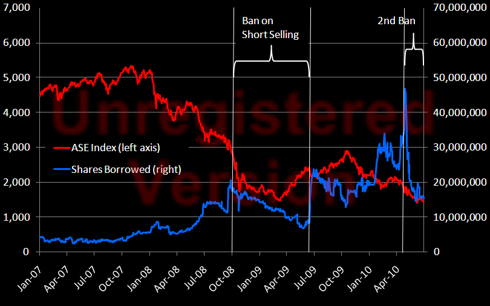 Click to enlarge
Disclosure:
No positions