Listening to the earnings conference call today I can not say I was overly impressed. The company missed by .15, met on revenues, raised only the lower end of guidance, and reaffirmed the outlook for 2014. The problem is listening to the management on the conference call they sounded positive, however, it seemed to me that they were "betting the farm" on the idea that customers were going to do more rebuilds. It remains to be seen if there will be an increase in rebuilds or if their bread and butter mining segment slows as i believe it will since the economy is not as strong as they believe. Additionally, there is a surplus of machinery out there especially given the Chinese over production so it will probably remain rocky in the new machinery sales area. Moreover, I do not believe their economic assumptions will materialize. Notice also in the call that they talked about the share buy back and how that was improving EPS, which it does because less shares outstanding raises EPS even on lower revenues. I personally like share buy backs when the company is inexpensive but trading at 15 x forward earnings I don't think JOY is very cheap so they are over paying. When companies buy back shares at inflated prices it hurts shareholder equity and is strictly a ploy to manufacture earnings not take advantage of market mispricing.
Looking at the stock it opened up strong and that could have been a result of JOY meeting revenues because it sure was not the EPS yet it may have been enough to scare a bunch of shorts as currently JOY has the distinction of being one of the most shorted stocks with over 21% of its float held short as of last report. JOY shot up like a rocket almost touching $59 but has since backed off because while the volume is present the bulls are not in control. If this pattern keeps up today's rise will more than likely be very fleeting. I believe that now that the initial hype surrounding earnings is wearing off most investors are looking at JOY like Missouri "Show Me!".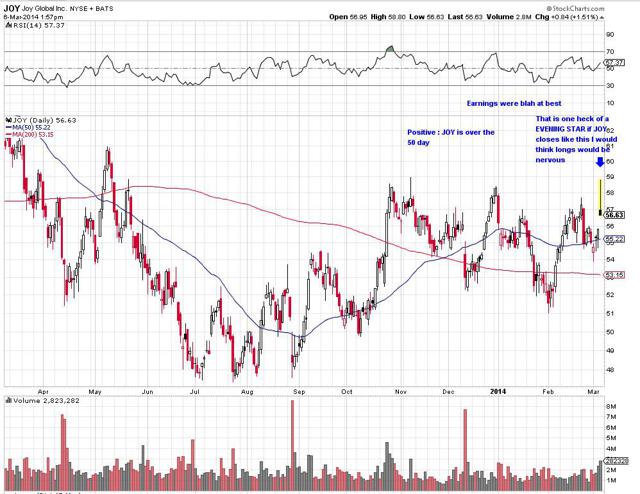 Disclosure: I have no positions in any stocks mentioned, but may initiate a short position in JOY over the next 72 hours.