The Agreement
This morning (May 2, 2013), Atossa Genetics (NASDAQ:ATOS) announced that it has signed an agreement with Millennium HealthCare Inc. (OTCPK:MHCC) for the distribution by Millennium Medical Devices of Atossa's ForeCYTE Breast Health devices, which consist of the patented MASCT pump and ForeCYTE patient collection kits.
(click to enlarge)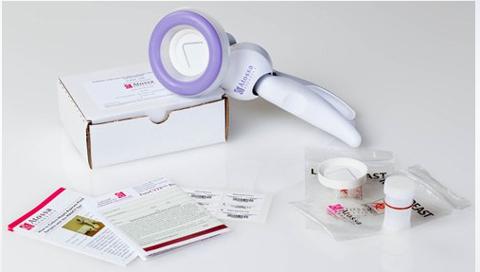 Click to enlarge
Millennium has submitted an initial order for 10,000 ForeCYTE collection kits, which it intends to market to managed-care networks, healthcare clinics and physician practices in the New York Metro Area and Northern New Jersey.
Atossa's MASCT system is used by physicians and nurses to collect a small amount of nipple aspirate fluid for analysis by the National Reference Laboratory for Breast Health with the ForeCYTE Breast Health Test.
The Implications
We think this distribution agreement is a great achievement for Atossa as it will boost the Company's top line in the coming quarters.
The ForeCYTE Test provides Atossa with two revenue sources:
Revenue from the sale of the MASCT System device and patient kits to physicians, breast health clinics, and mammography clinics; and
Service revenue from the preparation and interpretation of the NAF samples sent to the Company's laboratory for analysis.
Atossa offers each component of the MASCT System for sale separately. The NAF sample collection device is currently priced at approximately $250 per device and the patient kits are priced at approximately $30 per kit. The cytology and molecular diagnostics testing and analysis services are billed to federal and/or state health plans at the reimbursement rates of either $384 or $1,275 per patient, depending on the complexity of the analysis performed. The Company expects that the substantial majority of patients will be billed at the $384 rate. Some patients (approximately 10%) need more complex tests, which will be billed at the rate of $1,275. This higher rate is only for those patients who have an initial test result that requires further analysis.
Atossa bills third-party payors at higher rates, as is customary for the industry.
Based on the above information, the initial order of 10,000 collection kits will bring about $7.5 million in revenue for Atossa.
We think the distribution agreement with Millennium Healthcare represents an important milestone for the national rollout of ForeCYTE test.
In January 2013, Atossa initiated the national rollout of the ForeCYTE Breast Health Test in partnership with Clarity Women's Health. Clarity distributes the Clarity-branded ForeCYTE product line with major national distributors. These distributors collectively have more than 5,000 employee sales representatives and/or independent sales representatives selling their products to a target market of 33,000 obstetric-gynecologists in the United States.
Atossa, together with Clarity, is making steady progress in the national rollout of its ForeCYTE Test. Early responses from doctors and their patients are encouraging.
To help ensure that more doctors and their patients have access to the ForeCYTE and ArgusCYTE tests and that patients will receive insurance reimbursement for the laboratory costs associated with these tests, Atossa entered into two contracts with third parties to facilitate the reimbursement process from insurers, one with MultiPlan, Inc. in September 2012 and another with FedMed, Inc., in February 2013:
Atossa launched two breast health testing services in late 2011; with two new testing tools expected to be launched in 2013. We think revenue growth will accelerate in the coming years thanks to the focused marketing strategy and continued new products/services offering. We model the top line growing from $3.17 million in 2013 to $66.5 million in 2018, an impressive CAGR of 83%. We think Atossa will become profitable in 2015 with EPS of $0.05, which will grow to $1.08 per share in 2018.
Apparently, with the growth potential, Atossa's share price has further room to appreciate.
Disclosure: I have no positions in any stocks mentioned, and no plans to initiate any positions within the next 72 hours.