Politics and markets always make interesting discussions. No
matter whom the president was the market went up and down.
Politians have a vested interest in seeing the stock market go
up. It makes voters happy, increases tax revenue, reduces
governmental (thereby taxpayers) contributions to government
pension plans, etc.

The second year tally for the DJIA has been up 5 out of 7
times since 1980. We don't know how this year will end yet.
The Carter (1978-1980) and Bush (1989-1992) one term
presidencies both had negative second year returns.
Presidential Cycles: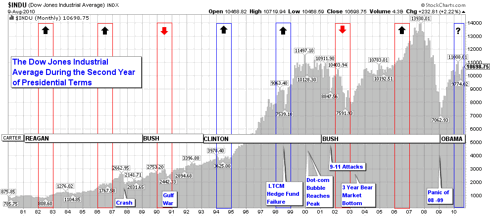 Click to enlarge

Interest Rates:

The three Federal Reserve chairman since 1980 have had
remarkably different trends during each of their terms in office.
Volker had very high double digit interest rates both short and
long term. Greenspan oversaw the long term (19 years)
decline of both short and long term interest rates. Bernanke's
tenure has seen a dramatic rise and then fall in short term
The 30 year treasury rate divided by the 90 day treasury rate is
The panic produced tremendous strains on this relationship
sending the quotient way into the hundreds. Since 2008 both
short and long term rates have set record lows.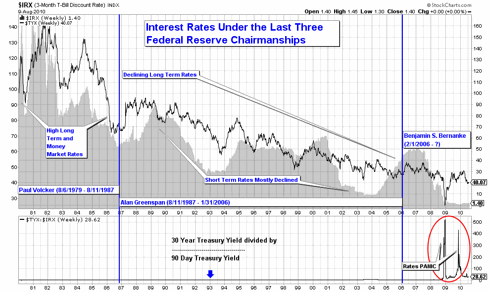 Click to enlarge
Volume:

"BIDS Trading, the alternative trading system (ATS), has set a
new record for quarterly average daily volume traded. The
dark pool traded over 44 million shares per day in Q2 2010.
This marks the third quarter in a row that BIDS Trading has
reported record quarterly volumes. BIDS Trading's Q2 volumes
increased 56 percent from its previous quarterly volume of 28
million shares per day and increased 118 percent year-overyear,
according to the company."
—Advance Trading

"By some estimates, algorithms now trigger 70 percent of all
trades in U.S. equities. The speed and volume of everyday
trading have propelled the market into a new and esoteric
dimension, and rendered traders in the pits largely obsolete.
Average daily share volume on the New York Stock Exchange
increased by 181 percent between 2005 and 2009, while the
time required to execute a trade on its electronic systems
dropped to 650 microseconds."
—Monsters in the Market, theAtlantic, July/August 2010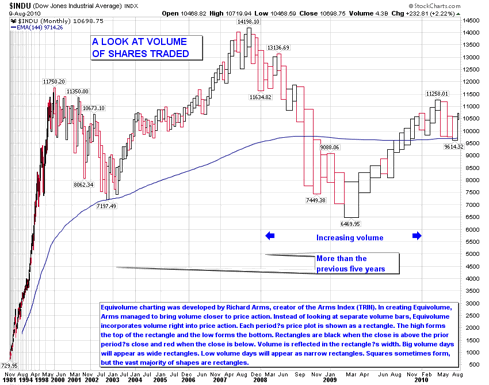 Click to enlarge
Disclosure:
No Postions
Disclosure:
No Positions