Some quick thoughts on recent market moves. Not much is new on the fundamental side of things since my last few postings, but I thought it would be useful to put some of the big market moves of recent days into perspective, especially as we head into the latter part of this week when the Euro summit will take place.
A few observations on the market overall. First, a little history of recent market moves…..refering to the areas on the chart below marked by the large numbers in green:
1) Market has been in an uptrend fr Oct '11 to May '12
2) After May 1 high, market sold off approx 6% where it 'rested' for several days before breaking out to the downside.
3) May 23, after testing and breaking down below the 200dMA, it looked like it might challenge the 10% selloff level from the May 1 highs (approx 11,940), but did not quite get that far.
4) Market rebounded in early June, but mid/late June selloff has sent it back to the down-6% level. Will it once again target the 200dMA below? Then down-10% after that? or bounce from here???
(continued below)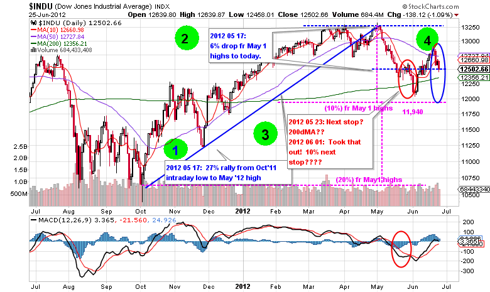 What's the point?
The selloff of the past few days has been pretty intense, especially days such as last Thursday and today where many names fell by several percentage points! The idea in refreshing the recent history, however, is to show that with all of the recent selling, we still haven't gotten to the lows of late May/early June! Now, it's possible that the market has become a bit numbed by the news from Europe, and as a result, perhaps we will hold support here. Alternatively, it's possible that the market is becoming increasingly convinced of the unlikelihood of any possible nearterm solution to the EUrozone crisis, which raises the prospect that we fall further. This coming Thursday and Friday's EU summit is likely to bring lots of headlines about the need to embrace reforms, but the quesiton that the market is likely to continue to ask is how possible it will be to transform 'need' into 'action'. Even those who are optimistic about the possibility of more Euro-wide fiscal, banking and funding union suggest that it will take a very long time to work through all the legalities and logistics. This could make any move to the upside based on headlines from the Euro summit potentially short-lived.
Of course, while that's playing out, on this side of the Atlantic, the data from the US continues to underwhelm….and every day that goes by, brings us one day closer to the feared 'fiscal cliff'!
So "defense" remains very much a part of the game plan. Yes, cash is teed up to nibble at lower levels. But, If we get any headlines that cause the markets to rise, unless the substance of the news is convincing, I'll still be evaluating it as a possible opportunity to raise more cash.
(Please note: This article is solely meant to be thought provoking and is not in any way meant to be personal investment advice. Each investor is obligated to opine and decide for themselves as to the appropriateness of anything said in this article to their unique financial profile, risk tolerances and portfolio goals).
Disclaimer: Please read and consider important information related to all communication made by Soos Global on this site by clicking here.
Additional Disclaimer: currently long many stocks/ETFs. Positions may change at any time without notice.