Technical analysis alone only works for short term price moves. Fundamental analysis is crucial for long term investments. Further this only looks at two aspects of technical analysis which carries considerable risk. Graphs and income data are from MSN Money. P/S (price/sales) and short interest are from Yahoo Finance.
One of the purpose is to introduce the analysis to you so you can do it on your own. Best wishes trading.
Kingold Jewelry (NASDAQ:
KGJI
) – down 22% (fell on no news)
Income growth: +135.10%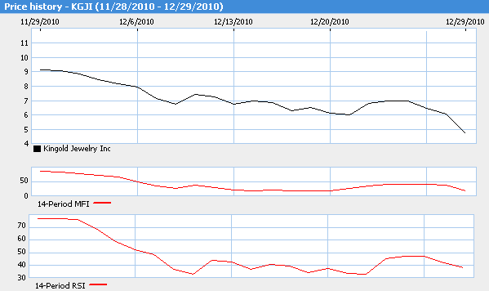 Both the 14-Period MFI and the 14-Period RSI are near their lows. The 14-Period RSI is not necessarily 30 yet, but I think this is a good buying point with the P/S equal to 0.50 and very low short interest.
Disclosure:
I have no positions in any stocks mentioned, and no plans to initiate any positions within the next 72 hours.
Additional disclosure:
I will go long on this stock for a maximum of two days, but it could very much go higher after that with the strong technicals.