Using an RSI greater than 90 (overbought), below is the screen for overbought stocks for February 11, 2011.

Click to enlarge
Source:  http://finviz.com/screener.ashx          
For each graph, top black line is overbought and bottom black line is oversold.
P/S = Price/Sales                                
P/B = Price/Book                   
P/C = Price/Cash        
P/FCF = Price/Free Cash Flow                                  
EPS next Y = EPS growth next year
EPS past 5Y = EPS growth last 5 years                    
Insider Trans = Insider Transactions
Sales Q/Q = Sales growth quarter over quarter
ROA = Return on assets                                            
ROE = Return on equity
Curr R = Current Ratio, which "measures whether or not a firm has enough resources to pay its debts over the next 12 months."  A ratio of 1.25 means that "for every dollar the company owes it has $1.25 available in current assets." http://en.wikipedia.org/wiki/Current_Ratio
Quick R = Quick Ratio          
Gross M = Gross Margin       
Oper M = Operating Margin
Profit M = Profit Margin
Big Lots Inc. (NYSE:BIG)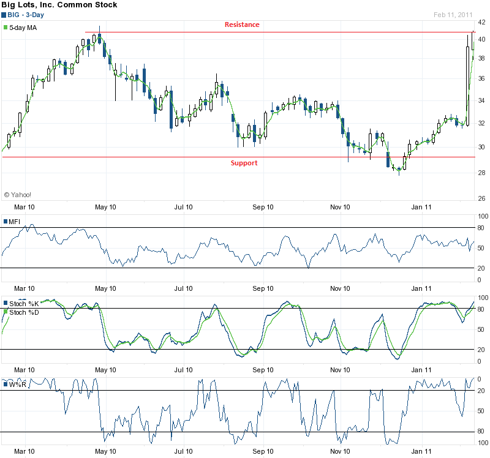 Click to enlarge
 
Bloomburg notes that the discount store is looking to sell itself for about $60 per share.  www.bloomberg.com/news/2011-02-10/chipot...; Problem, many companies that do look for buyers never get a buyer or get a buyer for a lower price.  Don't bet on the hype.  This is a bad time for a merger and aquisition in the retail business.
Price is approaching resistance and likely to fall, possibly back to support.  %K and %D and W%R are in overbought territory.  Plus, a price rise correlated with a flat or falling MFI is a bearish sign.  High price to cash (61x) and high negative insider transactions (74% selling) raise a red flag for the closeout retailer.
Global Traffic Network Inc. (NASDAQ:GNET)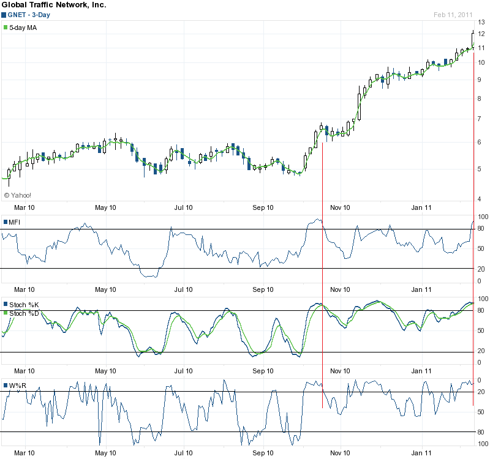 Click to enlarge
The news information company is trading for an extremely high PE (73) and PEG (3.83) for its industry.  MFI, %K and %D, and W%R are all back to the highs it set in October, as indicated by the red line.  However, this stock has momentum, so pullback may be small.  And the company formed a partnership with Clear Channel. www.bizjournals.com/sanantonio/news/2011...; This would further the hype in the stock.  But is its run up warranted?  After all, it is above its all-time high, besides the high PE and PEG noted above.
Interphase Corp. (NASDAQ:INPH)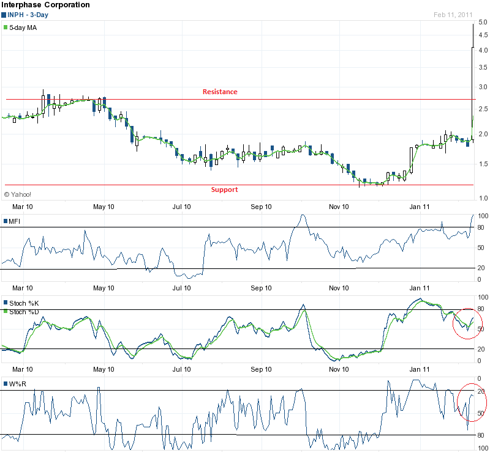 Click to enlarge
The communication networking solutions company broke through resistance on upbeat 4th quarter results. http://finance.yahoo.com/news/Interphase-Announces-2010-bw-666602761.html?x=0&.v=1  Still, does a 24% rise in revenue warrant a nearly 100% rise in the stock, despite the %K and %D and the W%R are not quite overbought?  Then again, these technically usually have a one day lag.
JDS Uniphase Corporation (JDSU)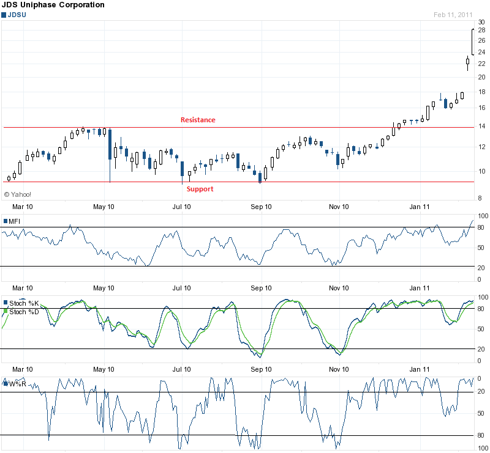 Click to enlarge
The telecommunication provider also seemed to have gotten ahead of itself, having broken through resistance.  MFI, %K and %D, and W%R are overbought.  Stock has an extremely high PE (469) and PEG (34).  Jim Cramer advises viewers not to buy into a stock with a PEG above 2.  I would advise the same.
Metrocorp Bancshares Inc. (NASDAQ:MCBI)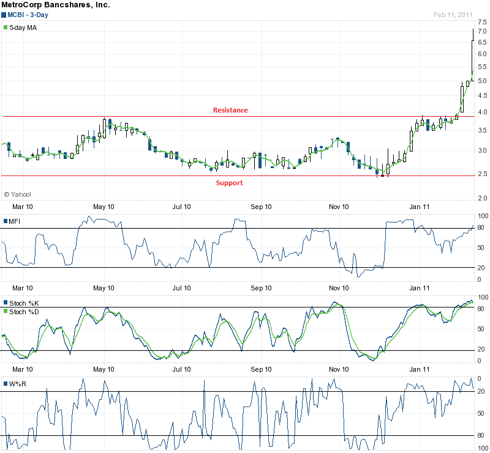 Click to enlarge
The Texas bank reported 4th quarter net income rose 167% from 3rd quarter. http://finance.yahoo.com/news/MetroCorp-Bancshares-Inc-prnews-3292003359.html?x=0&.v=1  Stock may have gotten ahead of itself as it crossed resistance.  However, on the plus side, forward PE looks very low at 13.
MicroStrategy Inc. (NASDAQ:MSTR)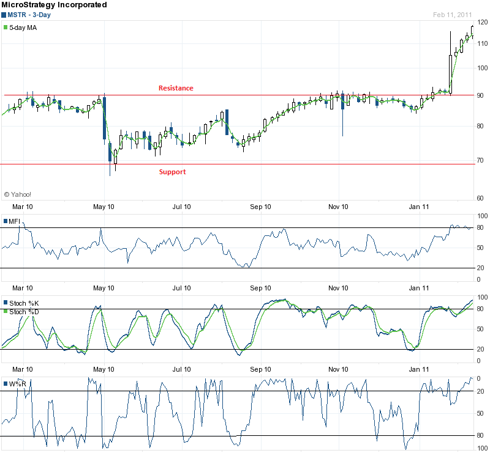 Click to enlarge
The business intelligence software company is looking a little pricey, though it has experienced high demand on its apps for the iPad. http://www.fool.com/investing/high-growth/2011/02/09/the-1-thing-ipad-and-blackberry-users-can-agree-up.aspx  Insider sales are 85%.  Why are so many insiders jumping ship?
Source:  All graphs created from Yahoo Finance.
Disclosure:
I have no positions in any stocks mentioned, and no plans to initiate any positions within the next 72 hours.