Gold Upside Breakout - February 2014
Gold has been in a prolonged downtrend for some time now, but it appears that it might have broken out of this. Confirmation of this breakout may even signal a reversal of its major trend.
Observing the chart: the large descending triangle had a somewhat downward breakout bias.
However, the head and shoulders bottom formation appears to have completed, albeit with rather weak volume.
When breaking out of the H&S bottom, gold concurrently broke out upward from the descending triangle.
(click to enlarge)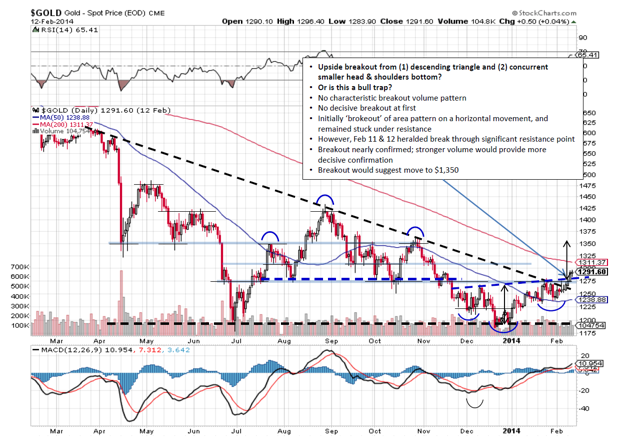 Click to enlarge
The question is whether this pattern completion is a bull trap of a valid breakout. Area patterns are an effective trading tool, but they do not always work as expected.
Regarding Gold's breakout:
No characteristic breakout volume pattern (yet)
No decisive breakout at first
Gold initially 'brokeout' of the descending triangle area pattern on a horizontal movement, and remained stuck under resistance for a day or so
However, February 11 & 12 heralded break through what appears to be a significant resistance point
Breakout nearly confirmed; stronger volume would provide more decisive confirmation
Gold may experience a post-completion confirmation if declines again but fails to penetrate the resistance level, which is now a support level at around $1,275 - 1,290.
If the breakout is valid, it would suggest move to $1,350, although there are additional resistance points along the way

It is also worth noting that gold equities have begun to outperform the commodity. This may be seen as a bullish signal indicating that commodity price has likely bottomed.