This week the market surprised me. As I wrote last week, I saw signals of weakness and I thought in a short-term correction. The correction happened only 1 day (Monday), then unexpectedly there were a surge in volumes and new highs in most indexes.
The S&P500 rose above 1500 with decision and continued the up-move until end of the week. It could be set for area 1200. The down reached 11.000 threefold. There's a resistance there, but we could see 11.200 if earning season surprise. Nasdaq 100 looked last week as the weakest index and this week didn't close above recent highs (above 2030). But it could follow other indexes if they continue to rise. I think many markets participants were surprised by this week move and this is a good signal. Usually a bull market begins on the fear.
The earning season now will drive the move in the next weeks. Alcoa began with results above estimates. Next week we'll have many big names such as Intel, JP Morgan, GE. Let's see how they result.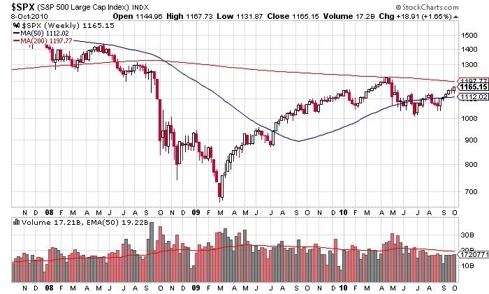 In Europe indexes looked weaker and they continue to trade choppy. Have a look at Dax how it seems building an expanding pattern reminding the one of April (?). The cause of this weaker pattern in Europe than in Usa is the Dollar in my opinion. The depreciation vs. Euro (rose up to 1,40 this week) is giving benefits to Us companies but is quite a bad thing for European companies. The QE2 of the Fed is pushing up asset prices quoted in Dollar (Us stocks, short term Treasuries, commodities), but for a foreign investor they aren't so attractive without hedging the dollar exposure. At this moment the dollar depreciation is eating almost all gains of most asset prices (I know something about my position in gold and perrigo). But we could be at the end of this dollar depreciation that look overextended. At 1,45 I'll start buying dollars because I think we could have a short term dollar rally.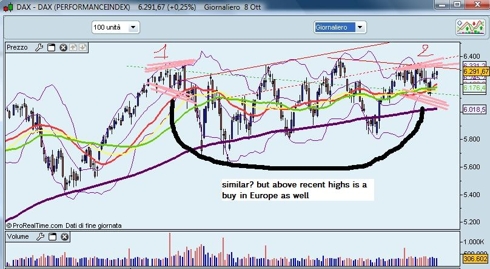 About stocks, I continue to hold a long position in PRGO, GLD and PLA. Some stocks in my buying list are overextended now and I wait for new companies data to run screens and see if new names arise. I think I'll open a long position on the S&P500 with target 1200 and stop below 1150. I have in my buying list also 2 European companies. The first is Danieli (Italian one and I like it a lot), the second is Luxottica. I am also looking for STMicroel., because I am close to have a Demark TD13 buy signal.
Disclosure:
long GLD, PLA, PRGO, SPX