I've not been writing since few weeks because I was quite busy in the weekends. This one will be a short post as well.
Market is in a correction mode, after many distributions days happened in last few weeks. Nasdaq was the index with most selling pressure, entered in a correction move after dropped below 2750.
(click to enlarge)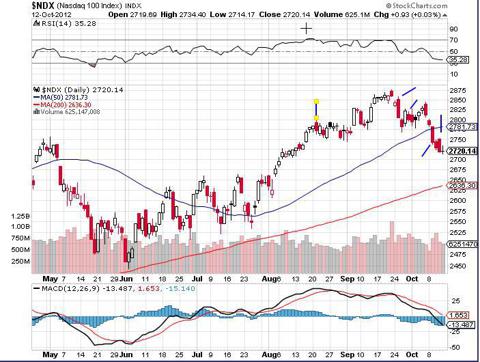 Click to enlarge
The thing I don' t like at the moment is that, when I search for leader growth stocks, I see some distribution patterns.
It sounds like a deeper correction could arrive in the next 1-2weeks. I think it will be temporary because of "Bernanke put" on the market, ie the governor will announce new measures if markets drop heavily.
So far this is what I see on several markets:
-US indexes seems due to a short term correction
-European indexes could do the same because of Spain bailout delay and Greece news.
-Investors are continuing to buy European peripherical government bonds (Spain, Italy), corporate and emerging market bonds
- Precious metals could consolidate/correct in the short term (buy on dip); oil could drop if US Administration releases strategic reserves to help Obama before of elections (buy a put on USO).
-Treasuries could be interesting in the short term
It seems like a short phase of "Risk off" is coming, but probably will be quite shallow because of huge liquidity in the market and very high level of cash held by funds.
Like a fisher, I am patiently waiting the right moment trying to pick up a fish.
I'm studying some stocks names, but don't like patterns associated at the moment.
My target is to buy in the short term future gold/silver, European Etf dividend stocks and pick 2-3 stocks.
At the moment I'm long corporate and emerging market bonds, i sold all precious and equity.