This is the first post of 2013. I started new things this year in the weekend and free time isn't a lot.
I make an update with my view on the actual situation:
-Gold (NYSEARCA:GLD)- It wasn't a good trade as I supposed. Luckily I was able to exit the trade without big pain because I closed it in Early January few days after FOMC December minute. It's a pity because it was acting well after my purchase and was on the street towards 165-170 easily. Recently fund selling (Soros, Pimco and others) added further weakness and fear among investors. Have a look at area 150 that is a good level to play a short term trade; or eventually to go long for a longer time frame, but I'd add a out-of-the money put.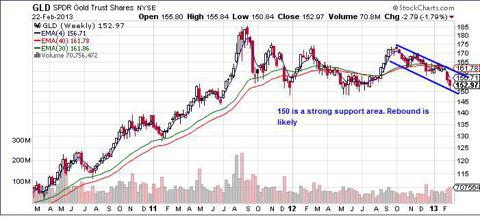 Stocks- they were stronger than I supposed in the US. Especially in February while Emerging Markets and Europe dropped.
In the last few days US Indexes showed some weakness with two distributions days. Many leader stocks and Etf lost momentum and trigger take profit levels. Now we have to monitor if "purchasers on the dip" appear in the next 1-2 weeks. Friday volume were light and looked as a dead cat bounce. Major Fibonacci retracements are much lower, be aware of it.
Sell signal appeared on Bullish percent. I would avoid buying on dips until bullish % doesn't improve much. Over next days we could have a situation like in October (that was a distribution period). I could sell some call spread (short ATM call on SPY, long OTM call with same expiration)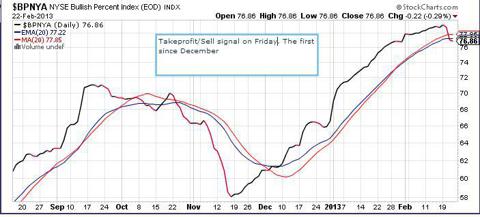 BOND - Long term Treasury are falling (yields rising) and driving down Emerging Bond too in 2013. High Yield showed weakness only in February. Treasury are the weakest with yields rising since December.
Signals of consolidation appeared recently and bonds could return in favor if stocks will drop toward Fibonacci levels
CURRENCY - Dollar showed strength recently and is near resistance at the moment. A further sell off on Stocks is likely only when dollar will strength further towards 23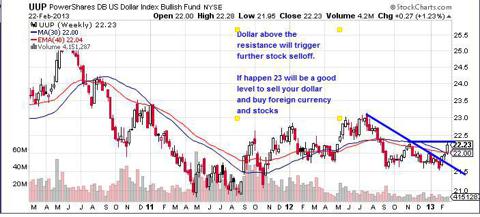 SUMMARY: signal of weakness in Stocks appeared this weak. It doesn't mean that stock will fall instantly, a week or 2 of distribution could materialize. I'd take profit on stock positions (or hedge them) now.
Fibonacci retracement are much lower on S&P500.
Gold could be a good tactical buy at 150 (GLD).
Disclosure: I have no positions in any stocks mentioned, and no plans to initiate any positions within the next 72 hours.