May is near, will "Sell in May and go away" be right in 2013?
So far, Us indexes were stronger than I thought driven by Fed liquidity and dividends/buyback cash. But now? what to expect for the next month?
this is the situation on markets
STOCKS
US and Japan indexes are the strongest at the moment, while general Emerging Market and Europe are weak, especially EM. The German Dax is weakening and could drop in May. Eurostoxx is going sideway in this 2013 and a double top is looming.
Even if US indexes are overperforming, we recently had many distributional days and market now are in correction mode. Breadth show a new weakness in play and is in short signal again. S&P500 is still above the important support 1540: until this level holds, short term trend is up. A break below could lead to a loss of almost 100points and this could happen next month.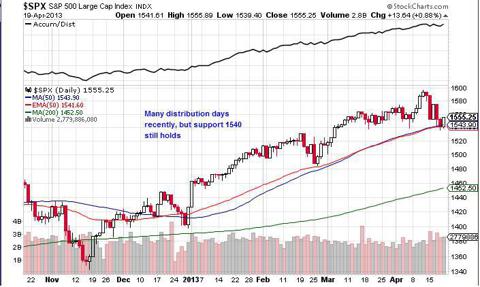 COMMODITY
Are the weakest play in the game. Gold crashed recently and now the technical picture deteriorated (trend still up but it may need months to regain investor's trust). Crude Oil continue to slide, copper is at lowest since more than 1y and half. Basically commodities are not benefiting from the liquidity (Fed and BoJ) and signals an underlying weakness in global economy (in Emerging Markets too).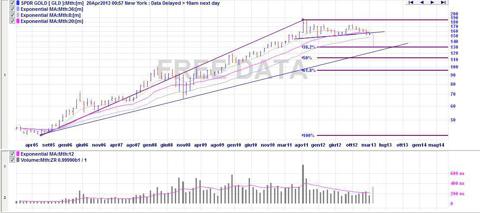 CURRENCIES
euro/$ is stuck around 1,30l level and for the next months this will be the "kernel" , with a chance to swing from 1,25 to 1,35.
Yen was sold after Kuroda's (BoJ) new measures. It could continue to be weak this year, but in May could appreciate fast if US Indexes drop fast. It's again the carry trade currency.
BOND
Investors continued to seek for yield, going to catch high yield bonds and bank loans. They started to buy long term gov/corp bonds after BoJ decision trying to anticipate Japan purchases.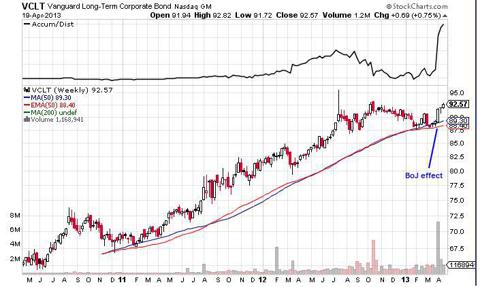 SUMMARY
Cross market behavior shows that the huge liquidity from central bank isn't going to real economy. Commodities are weak and the same is happening in emerging markets. Europe is still in trouble and last GDP projection shows the German economy is weakening. Southern European countries are still in recession and won't end it until end of year (at the best!).
US and Japan are bought now, but recently signals of market distributions have appeared. Support are still holding therefore the market could regain strength again. Recent US macroeconomic data were below consensus and show the risk of the "Spring slump".
At the moment US stock market is in correction/distribution model and I'm not going to buy new stocks. If a follow through day with volumes will come, I'll be glad to buy in May, but at the moment...it seems a month to sell...again!
(and if this happens...it will be a buy opportunity)
Disclosure: I have no positions in any stocks mentioned, and no plans to initiate any positions within the next 72 hours.