This week markets seem to have found a bottom according the put-call simple moving average 5 Day (chart).
Lately almost every time the sma topped above 1, the market bottomed for a while. I have to add that market was in uptrend (Above 200sma and ema), therefore now the signal could be weakened not work properly.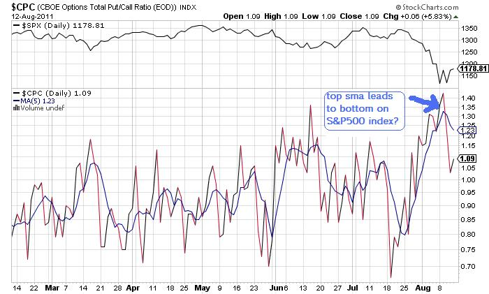 There's another signal of possible bottom: the index S&P500 dropped abruptly below Keltner channel lower band in August. Recently it created a support and returned inside the channel.
When this happen, a rally toward the middle of channel could happen (approximately now is 1230),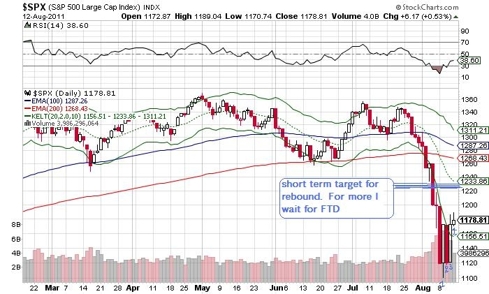 With all these signals in mind and the Vix that seems stabilized after rising above 40's, is possible trying to catch the rebound.
I'm trying to cplay it but just for very short term now (few days).
To stay longer in the market I wait for a
If it will happen, I'll open positions on longer term, otherwise I'll plan new shorts using puts.
follow through day
(NASDAQ:FTD) arises. On Friday we were in the 4th days to really. It must happen within August 22.