This 2012 began well for markets and my portfolio as well.
I was planning to sell the QQQ around 58. Demark sell signal occurred around that level, but luckily for me, the price filip confirmation didn't arise and I didn't short it.
Market showed strength in the last weeks, no doubt about it. At the beginning I was doubtful because the best stocks were the lagging one such as financial, cars. Recently we saw some strength from leaders such as IBM, APPLE post-earnings therefore the market is still healthy. Not perfect but improving.
On the other side optimism around investors is rapidly improving, and this is not good. The new bull market usually tend to grow in a pessimistic mood. People tend to not believe to the new price action and shout out for possibile imminent crashes coming soon.
According AAII, the latest survey shows optimism is increased. Bullishness is well above average and this could lead to a short-term pull back/consolidation.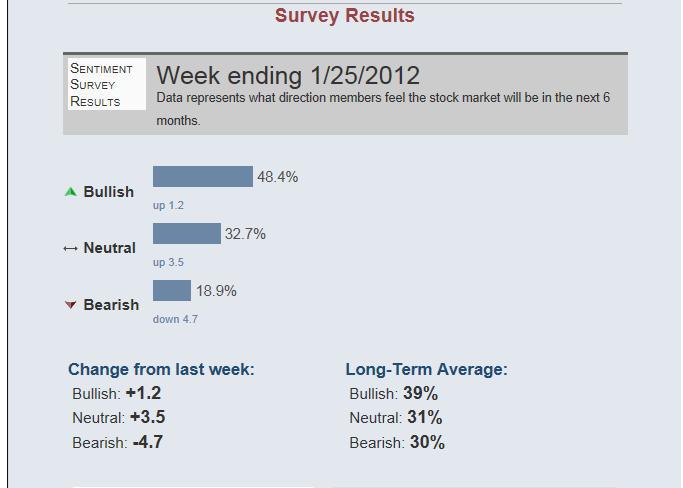 Click to enlarge
What I am doing now? In 2011 choppy market lead me to a lot of stop losses trying to catch the break of new highs.
This year I decided to start conservative, trying to sell put to collect some % points of profits and move later on a directional move.
Since December i sold put on NLY, GM, F and they are already close with profits.
At the moment my open positions are GDX, INHX. I sold february puts on both of them. I am also long SLV and plan to increase the metal exposure in the future betting on the QE3.
I am monitoring Mac Donalds (NYSE:
MCD
). Earnings were not well accepted because of currency risk. Stock sold off (but not so much). I am waiting for a drop to 95 area and at that level I'll check the price action to see if I can find a signal to go long with a call.
In Summary: market improved recently thanks to better news from Europe and hopes of Bernanke dovishness. This week a mover could be the B.'s testimony in front of House budget commitee where repubblicans will try to squeeze him. Let's see what are his answers.
As sentiment is quite bullish now, a short term correction could happen. That's why at the moment i prefer put selling to long call exposure. Another warning is the volatility that is dropping fast. Beware if Vix drop further around 15 level.