Another week of selling pressure and H&S was confirmed with price that reached 1300 in consecutive sessions without meaningfully rebounds. And now? At 1280 there's the SMA 200days, while the EMA is already above S&P500 levels (1314).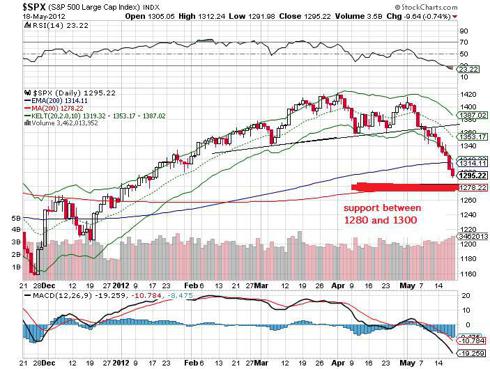 Risk off waves were clear this week with yen and $ appreciating vs. major and developing currencies, selling pressure on emerging stocks and volatility that seems to have bottomed out and rose to 25 (Vix).
Total Put/call ratio is very elevated and this could lead to a rebound but SMA 5 days is not topping yet, therefore I'd wait for it before calling for a short term market bottom.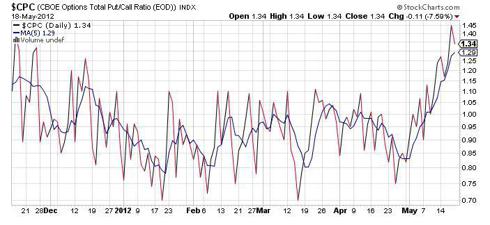 Sentiment is getting bearish. According May 16 AAII's survey, Bears rose 3,9% to 46% of people, with a drop in neutral and bullish consensus.
According all this elements, I think we could be near a short term low, but don't know if it's the big low for this year.
For the big low, probably we'd need a capitulation day with huge volume and a break of a significant support that stops out many traders. Let's wait for that moment before implementing long strategies with 5-6 weeks time-horizon.
Ideally we should have also a stabilization of financial sector and semiconductor (SOX), but this last has still a big downsize before to reach the supports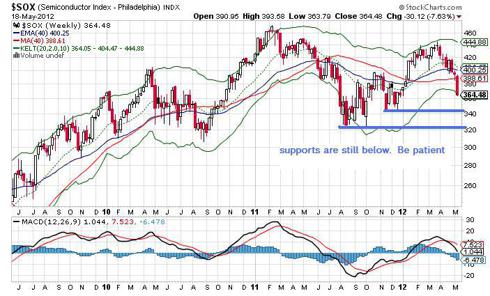 In coming week I think that I'll try some long short strategies with options, to limit the risk.
What could rebound the market could be a political announcement such as QE3 or new LTRO's ECB or a coordinate move by major central banks. But from charts, I see the chance of a short term rebound but not yet a major low.
Ps:about DFS it fell deeply this week. It showed a good relative strength but at the end market was too bear to resist at high levels
Disclosure: I am long DFS.