This was a shorter than normal week in the Us because of holiday, but in Europe the mess continued and was a full time week.
ECB cut rates 25bp but Mr.Draghi admitted that growth is weak in ALL countries now (Germany as well, are you surprised to see it when all other countries around are falling?!?) and some downside risk materialized. But they didn't talk about other extraordinary measures and stock markets sold heavily.
This selling pressure signal that next week could be "hot" for Europe if Euro-group on Monday doesn't deliver some clear rules for Eurofunds ESM/Efsf and bank recapitalization.
On Friday Boe increased by 50Bn£ his QE and China unexpectedly cut rate on lending and deposits for the 2nd time in a month.
But this wasn't enough to sustain markets!
In Us payrolls were weak (80k); the weak labor market opens the road for Bernanke to push QE3 in August meeting. I am curious to hear him on 17/18 July in front of the Congress. If Bernie wants to do QE, I believe he will prepare market saying something clear at that event.
Until that day, market could be choppy because of news coming from our side of Atlantic (Europe).
Have a look at the S&P500 chart.
(click to enlarge)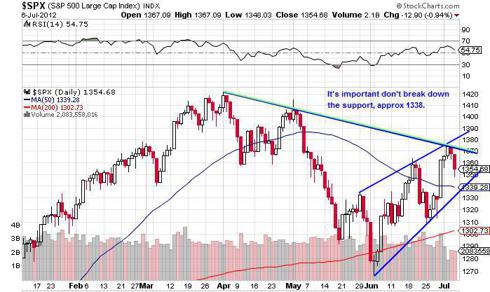 Click to enlarge
S&P500 halted the rise just below resistance that connect recent highs. You can also see that the rebound started in June seems to be contained in a wedge that would be broker below approx 1338. If that happens (and it could with a 50% probability) be prepared for a fall to 1300 area. I continue to believe that market could be choppy in the next few days, but don't expect a bear market in July. If it starts to fall hard, Bernanke will rescue it ..at least in the short term.
On the other side, be ready to open new longs if S&P500 goes above this week high, breaking the resistance because we could go above 1400.
Last week I talk about some ideas I had. Discovery Financial Services (DFS) is doing well and reached new highs. That's fine.
I opened on Monday a position on XRT, the SPDR retail etf.
(click to enlarge)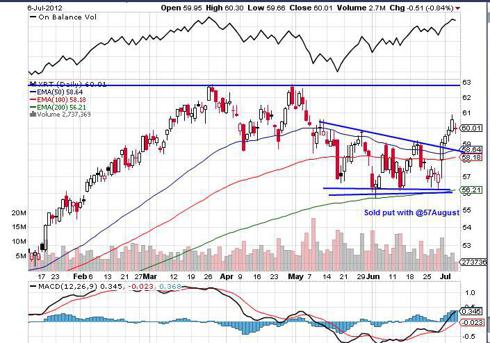 Click to enlarge
I like the chart because it showed a relative strength against S&P; It had a 13Demark buy signal (not visible in this chart) just above the EMA 200 days and etf broke the resistance. Because I still think market could be choppy and doesn't expect a new uptrend until mid-July, I preferred simply selling put for Income. I could open other long position on this etf in coming days if my idea change. Let's see how retail stocks behavier in the earning season.
I sold August put @57 that allow me to have a price below 56 if exercised. Actually I hope to not be exercised and it expire worthless or eventually buy to close earlier for few pennies.
Still continue to monitor other names I made last week and could do something next week.
Disclosure: I am long XRT, SLV.
Additional disclosure: I could initiate any position within the next 72 hours.